"Gay baboon terrorises villagers": Satire or dangerous homophobia?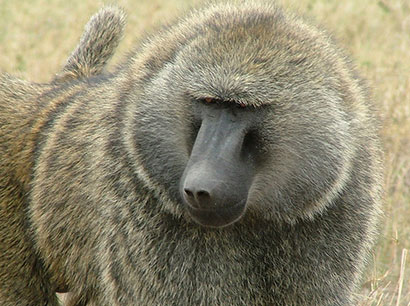 A South African "fake news" site is repeatedly using homophobic panic as a subject of its supposedly humorous articles.
The site, National News Bulletin, on Tuesday published a piece titled "Gay baboon terrorises village. Five men now have anal cancer".
According to the site, the North West province villagers are living in fear over a big male baboon, named nicknamed Somizi (presumably after the openly gay South African personality, Somizi Mhlongo), "that likes to grope and bonk human males".
The article reads: "The baboon is said to have attacked more than six men in the past week and what's baffling the villagers is the fact that the baboon only attacks guys and does not hurt its victims but rather performs sexual acts on top of the terrified victim and leaves."
The site further equated homosexuality and gay sex with physical danger, writing that, "Five men were admitted to hospital yesterday after experiencing acute anal pains and fatigue. Doctors confirmed the men have anal cancer."
It added that, "all male school kids were said to be wearing dresses as a preventative measure until the baboon has been dealt with".
Disturbingly, the article has been shared across the continent and republished by other media, with many readers and journalists not realising that it is a spoof. The "fake news" could easily be used to affirm and perpetuate homophobia and anti-gay hysteria.
In the last few days the site published another article in which it "reported" that a Mpumalanga burglar named Mashudu Ndalamo, who tried to rob a house, was terrorised and raped by a gay couple who live in the home.
"What Mashudu had not known was that the owners of the house were two gay men with a fetish for a three-some and bondage," said the site.
"The owners of the house, names withheld, went on to fulfill their deranged sexual fantasies on the defenseless Mashudu who could not even scream for he feared the community would kill him."
The man "told" the National News Bulletin that during the three hour ordeal, "I had to choose between getting my bum poked or screaming and awakening the community. The community would have easily killed me. I chose to be violated."
The site's "About us" page offers a basic description of the publication: "Pure African Satire." Homosexuality is illegal in over 30 countries in Africa.
Funny or alarming? Tell us what you think about these articles.