Motoring: Asian Allure – The Lexus NX200t F-Sport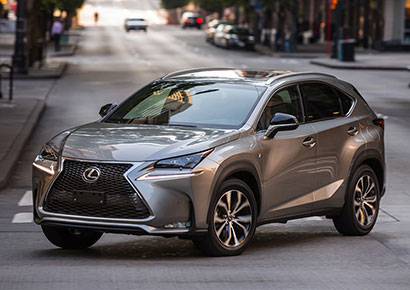 The array of options in the premium, mid-level sector of the Sports Utility Vehicle (SUV) market is dominated by ze Germans; BMW with its X3 and X4, Mercedes-Benz with its GLC and Audi with its Q5 – you see them all in their droves.
There are a few other options, though, that offer similar size for less money (the Swedes and Koreans spring to mind here), or, for similar money, a rather different style.
Take the Lexus NX 200t F-Sport that we have here, for example. It weighs in at a similar price level to its German rivals at what could be considered a rather dear R786 600, but brings a unique Asian flair to the SUV party.
The name F-Sport should be the first real clue as to this model's offering. Enhancing the NX's bulk is the large, honeycomb-textured spindle grille with a deeper bumper and metallic-coated lower section, augmented by the sharply styled, full-LED headlamps. This gives the NX a large presence when on the road.
Glossy black accents and turbine-inspired, 18-inch alloys in a burnt metallic finish add sportier individuality to this model. As a whole, it still looks fresh and cool after a couple of years on the market – and strikingly different enough to stand out from the crowd.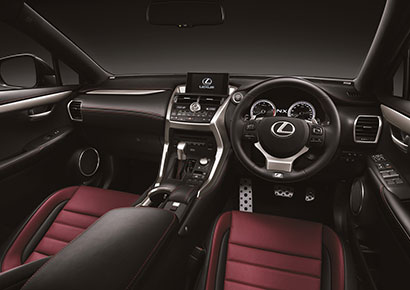 The spindle theme of the exterior is carried through to the interior where the high, cosseting dashboard design mimics the imposing front grille. The interior is quite the button fest, but staying true to its Lexus DNA is top-quality in look, feel and finish. The well-contoured seats, which are both heated and cooled, are slender and supportive and covered in smooth, soft leather – as are the doors and dashboard.
Atop the dash sits a 7,1-inch infotainment screen controlled by a touch-sensitive track pad alongside the driver. This third generation of the Lexus Remote Touch (LRT) system is easy enough to use on the move, though Lexus could refine it further still.
A 10-speaker sound system, Electro Multi-Vision Navigation with 3D SatNav, auto-retractable heated side mirrors, rain-sensing wipers, a reversing camera with park distance control front and rear, touch-sensitive cockpit lighting and dual-zone automatic climate control are just some of the toys you get. Exclusive to the F-Sport model, there's also a panoramic sun roof and the fun-but-pointless digital boost and G-force displays.
Though, with a 2,0-litre, turbocharged engine that produces power and torque of 175 kW and 350 Nm, you're probably not likely to drive the NX like Ms Daisy… The 200t pulls strongly with a grunty (albeit synthesised) soundtrack to 100 km/h in just 7,1 seconds. Lexus claims that it'll use fuel at a combined rate of just 7,9 l/100 km – but the reality is a far greater thirst.
True to its brand's character, the NX is just as great at cruising along. The ride – unless you're on a really harsh road – is hushed and refined, while the comfort levels on the F-Sport Adaptive Variable Suspension system are really rather good – in anything other than the Sport+ setting. That stiffens up the suspension for sharper cornering (if you really must in a 1,8-tonne SUV), with the NX feeling stable and well-sat on the road.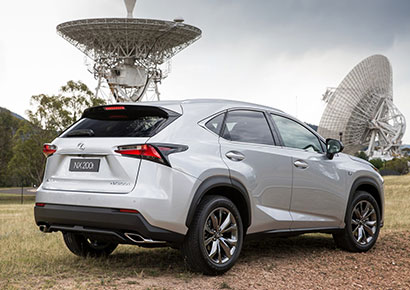 Oh, you can take it off road, if you want to… The six-speed auto transmission drives through a lockable, electronically controlled all-wheel-drive system with a bunch of clever differentials that toss the power around to where it's needed most.
So, is the NX 200t F-Sport worthy of a look? Most definitely, although buyers in this segment might demand a diesel engine, which could be why the NX doesn't feature as strongly on the sales charts as its rivals.
Nonetheless, it's priced in line with its German rivals, feels luxurious, offers a good amount of standard kit, drives really well and grabs attention with its sharp, distinctive Asian style.
The NX is offered with a standard four-year/100 000 km warranty and maintenance plan.