Here's the man who's about to become the world's newest gay prime minister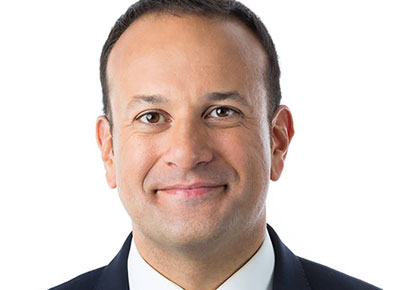 Leo Varadkar, a 38-year-old gay man of Indian descent, will become Ireland's new prime minister.
On Friday, the country's governing Fine Gael party elected Varadkar as its leader, after he received 60% of the votes.
He is set to be formally made prime minister (or Taoiseach, as the title is known in Ireland) of the once-staunchly Catholic country by parliament later this month.
He will succeed Prime Minister Enda Kenny, who recently resigned. Varadkar will then become the second openly gay national leader currently in office, after Luxembourg's Prime Minister Xavier Bettel.
The young politician, who is a qualified GP, previously served as Minister for Social Protection from 2016 to 2017, Minister for Health from 2014 to 2016 and Minister for Transport, Tourism and Sport from 2011 to 2014.
Varadkar is the son of an Irish nurse and an Indian immigrant doctor. He came out to the public as the first openly gay Irish cabinet member in January 2015, in an interview with RTÉ Radio.
"It's not something that defines me," he said. "I'm not a half-Indian politician, or a doctor politician or a gay politician for that matter. It's just part of who I am, it doesn't define me, it is part of my character I suppose."
Varadkar is in a relationship with his partner, Matthew Barrett, a doctor at Mater Misericordiae University Hospital.
According to his official biography, Varadkar has two sisters, is interested in sport, music and history, and takes part in runs, triathlons and swims.
Brian Finnegan, editor of Gay Community News in Dublin, welcomed Varadkar's leadership of the Fine Gael party and the country.
"I think it's really significant that both his party and the media in Ireland focused on his policies, rather than him simply being a gay man who wants to lead the country," Finnegan told The Guardian.
"It is a sign of how much Ireland has changed and moved on that no one really cares if he is gay here. Irish politicians were among the last sectors of our society to come out of the closet but now at least we've got one gay man and a lesbian, Catherine Zappone, both in the cabinet. That would have been unthinkable perhaps even 10 years ago."
The Times of India remarked: "[Varadkar's] election marks another chapter in the social change that has swept through the country of 4.6 million people that only decriminalised homosexuality in 1993 but became the first country to adopt gay marriage via a popular vote in 2015."
"It also shows another face of modern-day Ireland. Varadkar's father Ashok, who like his son is a doctor, was born in Mumbai in India. He met his wife Miriam, an Irish nurse, in England in the 1970s before moving to Ireland where Varadkar was born."