Gauteng gay clubbing shock: Babylon & Industry shut down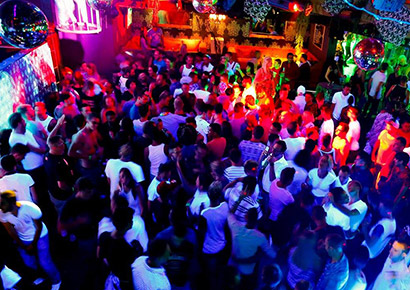 Gauteng's once thriving gay clubbing scene continues on the decline. Babylon, one of the leading gay clubs in the province, has unexpectedly shut its doors, just weeks after the closure of Industry.
Bruce Walker, veteran party promoter and creator of the iconic Centurion nightclub, confirmed to Mambaonline that Babylon the Club is no longer open.
"It closed last week," he said. "The lease was finished and the new rental was far too high. I also think that the owners didn't really want a gay club there. They wanted R100,000 a month [rental]!"
Babylon was open for seven years and was one of the leading gay nightclubs in the country. (The closure doesn't affect Babylon the Bar, in Illovo, Johannesburg, which remains open.)
When asked his thoughts on the state of gay clubbing in Gauteng, Walker said it was a combination of two factors.
"All of clubbing is on the downward spiral," he explained. "Firstly the rentals are far too high. And, secondly, to make it economically viable you have to have a cover charge, which people don't want to pay anymore."
The news follows the recent closure of Industry, which was launched in Johannesburg's Maboneng Precinct in September last year. The venue was punted as a more inclusive space for the queer community to socialise in. Despite a successful opening night, it appeared to struggle to attract a sustainable clientele.
Mambaonline has been unable to contact the owners for comment on the closure. According to a source, in addition to a lack of support from the community, Industry also had ongoing issues with its landlords.
Technology has changed the landscape of gay clubbing
Jerome Camp, owner of Johannesburg's longest running gay nightclub (more than 15 years), Simply Blue, agrees that the LGBT public is today more interested in free entry bars that serve a mixed clientele.
He also believes that the recent closures are in large part a result of a generational change. "People don't seem to be so into gay spaces anymore," Camp said. "The [LGBT] Born Frees are demanding their space in the heterosexual community and are not so interested in their own space."
He also noted that LGBT people are more likely to turn out for special events (such as Simply Blue's recent well-attended Miss Gay Jozi pageant) than for regular club nights.
Camp added that while gay nightclubs were once the only spaces where LGBT people could safely socialise and meet, technology has dramatically changed the landscape. "People don't want to meet in clubs anymore, now they meet online; on Facebook and Grindr. So our strategies have to evolve."
For Camp, this means increasingly offering his venue for heterosexual or mixed events in order to be able to sustain his exclusively gay nights. "We love what we do. The passion and drive is still there."
Walker also remains optimistic. He is planning to open a new gay club in Fourways at the end of July, called Frat House. "Things have to change," said Walker. "You move on and you start something new."