Here are the two gay dads competing on My Kitchen Rules SA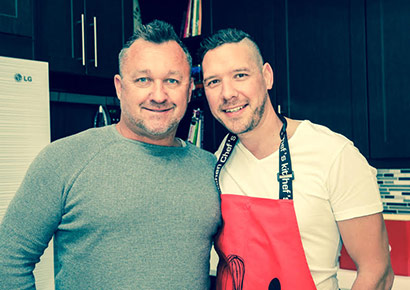 Two proudly gay dads are set to appear in the new hit television cooking show My Kitchen Rules South Africa (MKRSA).
Launched on 13 August, the series sees local amateur foodies competing in teams of two for a cash prize.
The first episode of MKRSA introduced South Africans to the initial five couples but snippets have started revealing the second batch of contestants.
These include South Africa's 'Good Things Guy', Brent Lindeque paired with his fiancé and partner of nine years, Andrew Ross.
Lindeque is best known for his GoodThingsGuy.com website, reaching over two million visitors a month, and his Cliffcentral show. He first made a splash in 2014 when he created the RAK initiative, aimed at giving back and helping those in need, which became a global phenomenon.
Lindeque went on to become a LeadSA Hero, was selected as one of Africa's most promising Entrepreneurs and was also chosen as one of the Mail & Guardian's Top 200 Young South Africans.
"I am so excited to get cooking in the MKR kitchen… and even more so to meet all the contestants. A competition like this brings together two of my favourite things… people and food!" said Lindeque.
A real world modern family team, Lindeque and Ross have two teenage children who are excited to see if their dads perform as well on screen as they do in the kitchen at home.
Lindeque told Mambaonline that he and his fiancé are happy to have the opportunity to be positively depicted as a same-sex couple and family on national television.
Lindeque explained: "Being gay dads, it's important for us to represent for the LGBTI community. Also, we love winning!"
An entrepreneur, thought leader and MD of two agencies, Ross works around the world in the fields of sponsorship, brand activation, experiential marketing and social media. Having also worked in the performing arts in his youth, he has a loud mouth, a razor sharp wit and, of course, plenty of opinions.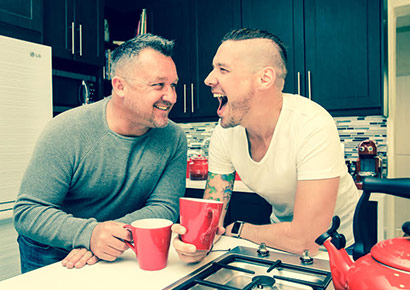 "They say life starts outside your comfort zone right? Brent and I are embarking on a journey that has never made me more terrified, and excited at the same time!" said Ross. "Cooking has always been a passion of mine and I'm privileged to be part of such an exciting and innovative competition like this."
MKRSA resembles the original Australian version and will see ten pairs of home cooks competing through an "instant restaurant" round in the comfort of their own homes. The winners will go through to the final round where they will compete in a custom-designed restaurant space and other locations.
The 18-episode show will be adjudicated by celebrity chef and restaurateur David Higgs and J-Something from popular band Mi Casa. Catch Lindeque and Ross in the MKRSA kitchen every Sunday at 6pm on MNET, channel 101.
Look who's coming to #MKRSA soon. The competition is real on Sundays at 18:00 only on #MNet101. pic.twitter.com/4YRBu13rDa

— M-Net (@MNet) August 18, 2017