No league yet, but ANC agrees to launch LGBTI desk in Johannesburg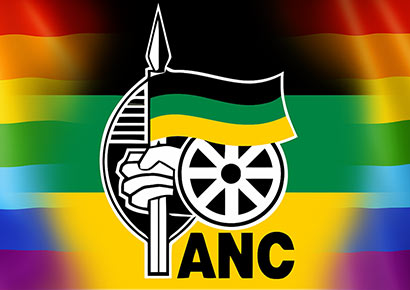 Discussions between a collective of LGBTI members of the ANC and the party's Johannesburg region have borne some fruit.
On Friday, the ANC LGBTI Forum announced that the ANC Johannesburg Region had agreed to start the party's very first LGBTI Desk, which will represent the interests of LGBTI members.
The ANC LGBTI Forum, which is not a formal structure in the party, had earlier in the week announced plans to march to Luthuli House to demand recognition from the party, and initiate the creation of an LGBTI League.
After consultations with other members of the party, the march was cancelled and an agreement was reached with the Johannesburg Region to launch the regional LGBTI Desk.
ANC LGBTI Forum Spokesperson Mpho Buntse said that while the group had not achieved national recognition in the ANC yet, the outcome "is still a victory".
He told Mambaonline: "It has never happened in the history of the ANC that there is a desk or an office for LGBTI matters. Rome wasn't built in one day. It is a stepping stone and it has never happened before."
As part of the agreement, the forum will be given office space at the regional office in Ghandi Square in Johannesburg. "It is a major step," Buntse said. "Their commitment is that they will assist us in every process to make this a national structure."
The approach is to first create a grassroots LGBTI membership movement within the ANC before approaching national structures. The next step will be to launch similar desks in the four other regions in Gauteng and then create a provincial LGBTI desk.
"We will have enough leverage to approach other regions to do the same. This will be a model or reference for the rest of the country," explained Buntse.
He acknowledged that some more conservative ANC regions, such as those in KwaZulu-Natal, may not be as open to embracing an LGBTI presence, but believes it is a matter of time until they come around.
"The plan in the long run is to set up these regional structures with tiered membership to then confidently approach the National Executive Committee (NEC) [to launch an LGBTI League]".
The forum will in the meantime continue to engage with LGBTI ANC members in all the provinces, will ask the candidates for the ANC presidency about their stance towards LGBTI issues and will request that it be given observer status at the national elective conference in December.
Buntse dismissed the idea that LGBTI people should simply be lumped with the ANC Women's League. "The Women's League does not address or understand issues of, for example, lesbian women.
"The focus is that we want to champion the interests of LGBTI people in the ANC and the county. We are saying we are ready in terms of governance and deployment. We are ready to represent issues of gays and lesbians and trans women."