Applause & outrage as Inxeba (The Wound) announced as SA's Oscar contender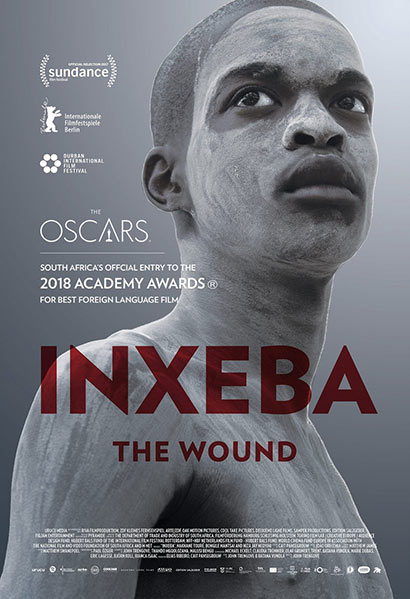 Not everyone has welcomed the news that controversial gay love story Inxeba (The Wound) has been chosen as South Africa's official submission to the 2018 Academy Awards.
The acclaimed drama was selected by the National Film and Video Foundation (NFVF) to represent the country for its entry into the best foreign language Film category.
According to City Press, a committee of film professionals viewed six local films, including Inxeba, and deliberated into the early hours of the morning before making their decision.
"The committee applauded the film as a masterpiece in terms of script, directing and performances, which are believable and captivating," said the NFVF's Peter Kwele.
He added that Inxeba's success at film festivals internationally was "evidence of its global appeal".
Based on the films submitted from countries around the world, the Academy Awards will compile a final list of nominees for the foreign language award.
Traditional leaders in the Eastern Cape, however, are less than thrilled at Inxeba's continued exposure because of its depiction of initiation ceremonies and exploration of same-sex love and masculinity.
Nkosi Mwelo Nonkonyana, the chair of the Eastern Cape House of Traditional Leaders, told City Press: "We are fundamentally opposed to this film. In fact, we think it should be interdicted in court. We don't want it at all. We are disappointed that government can [allow it to be shown] without even consulting us."
Nkosi Gcobani Tyali, from the OR Tambo Initiation Monitoring Forum, claimed that Inxeba's submission to the Oscars meant that South Africa was seeking international acclaim at the cost of traditional values.
"Government is embarrassing itself by selling our culture and rituals. Government is supposed to preserve all the different cultures and customs, and not sell them to the West," he said.
In August, AmaXhosa king Zwelonke Sigcawu also called for the film to be banned for violating cultural sensitivities and traditions. The cast and crew have even been threatened on social media, with lead actor Nakhane Touré subjected to violent threats, including that of being burned alive.
Directed by John Trengove, Inxeba is the story of Xolani, a lonely closeted Xhosa factory worker who joins the men of his community in the mountains of the Eastern Cape to initiate a group of teenage boys into manhood.
In July, the gay-themed drama added to its critical acclaim by winning Outfest's International Grand Jury Prize in Los Angeles. It first premiered at the Sundance Film Festival in January and went on to be screened at other festivals around the world. It has also won Best Film and Best Actor at Cinema Jove, the Valencia International Film Festival.
Inxeba is only being officially released in South Africa next year, but there have been and continue to be some selected screenings around the country.