Motoring: The Peugeot 3008 has its claws out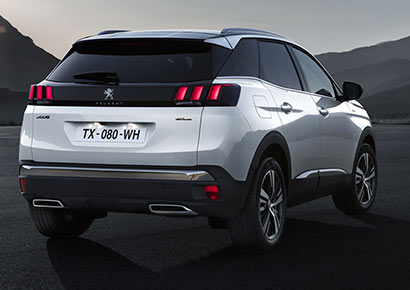 Would you just look at this Peugeot 3008… That snarling grille; those sharp, focused full-LED headlights; the glistening "Coupe Franche" highlight over the glossy black roofline coming to a point above those muscular rear haunches… It's like a cat – poised, taut, ready to pounce.
It's actually like nothing we've seen from Peugeot before – as if it came to life one misty night, straight from the designer's imagination to the showroom.
Look at the details in the rear end, for example. Sure, those large, oblong exhaust tip shrouds are fake, but the six rear light bars set on a horizontal gloss-black strip must be the most striking units of any vehicle in its class.
The overall design is bold, confident, stunning.
Stunning is also a good word to describe the interior of this GT-Line+ model. Pick any class of car as a benchmark comparison and the 3008's will almost certainly be the most unique. It is a complete departure from any norm you dare to define, despite, interestingly, being rather simple in execution.
A full panoramic sunroof allows light to flood Peugeot's latest generation i-Cockpit, the main dashboard of which houses the configurable 12,3-inch instrument panel and eight-inch digital touchscreen. This is underscored by a contrasting grey-fabric lined tier with eight "sensory" buttons that allow you to control various functions – such as the bi-zone climate control or satnav.
Even the gear selector is a departure in design, if, by now, we are used to the low-set small-diameter steering wheel central to the i-Cockpit philosophy. The 3008's leather-covered, two-spoke unit is both chunky and contoured to fit the hands. Its flat top is another unique design aspect, but functional in that it aids visibility of the instrument cluster.
At night, ambient LED lighting softly highlights the contours of the cabin.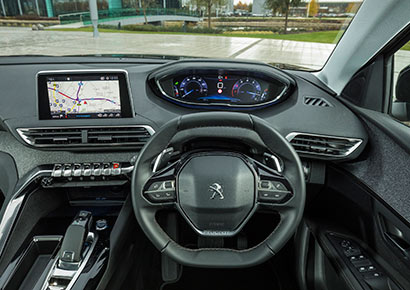 GT-Line models are upholstered in exotic-sounding – but super-soft and super-comfy – Claudia Mistral Leather which, combined with the various driver-seat massage functions, makes the 3008's cockpit among the comfiest to be in.
Oh, one of those massage programmes is dubbed "Cat Paw" and yes, it feels exactly like a cat walking up your back.
In engineering the new 3008 Peugeot has shed 100 kg from the previous model's mass. Certainly, the new 3008 feels both cossetting and light on its feet when the need strikes to hustle it along.
At that point, the turbocharged 1,6-litre THP motor proves to be strong; producing power of 120 kW and 240 Nm of thrust. It's quick, too – it'll hit 100 km/h in a not-too-shabby 8,9 seconds. Peugeot claims the 3008 THP will consume 7,0 l/100 km on the combined cycle. This petrol engine is currently the only option in the range, until the 2,0-litre HDi turbodiesel arrives early in 2018.
The only gearbox option is a six-speed automatic. It must be said that the automatic gearboxes found in most Peugeots can be a bit dim-witted – but this is undoubtedly the best auto fitted to a Peugeot at the moment; offering smooth, timely shifts.
While I've already mentioned a few, listing the full complement of safety and convenience features fitted to the GT-Line+ would fill the space for the rest of this review. Some of the more important are lane departure warning with lane-keeping assist; camera- and radar-guided advanced emergency brake system; front collision warning; active blindspot detection and driver attention alert. A 360° reversing camera (not of the best quality) is combined with front and rear parking sensors; while voice recognition, mirror link, WiFi and wireless charging add to the high-tech infotainment system.
From its sharp looks to its sumptuous interior and its relaxed yet confident drive; it was important that Peugeot got the 3008 right. As the flagship passenger model in the brand's local lineup, the 3008 has the unenviable task of building Peugeot's struggling image in the South African market – all while competing in one of the most hotly contested segments of the market.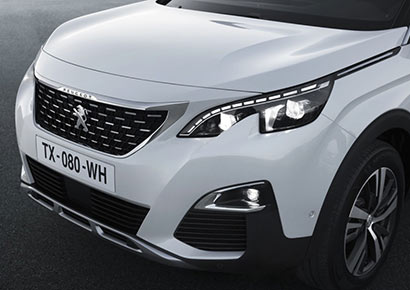 The four-year/60 000 km service plan (a five-year/100 000 km full maintenance plan is optional), three-year/100 000 km manufacturer warranty, 12-year anti-perforation warranty and three-year/100 000 km roadside assistance will go a long way to allay fears of aftersales backup.
That's important because, priced at R569 900, the 3008 GT-Line+ competes with Volkswagen's Tiguan, Kia's Sportage, Hyundai's Tucson and Honda's CR-V – stiff competition and strong sellers all.
But Peugeot is off to a good start … the 3008 has been nominated as a finalist in the 2018 WesBank South African Car of the Year competition – and for good reason.
It represents a new level for Peugeot; being both the best model in the brand's lineup, and one that can hang with the best mid-sized SUVs today. It's certainly one that stands out – I mean, just look at it…