Activists demand changes to Cape Town Pride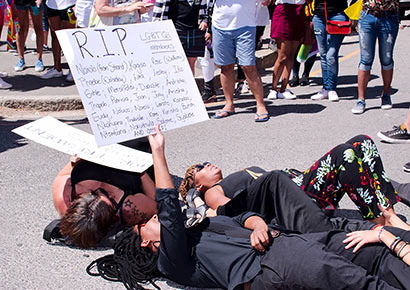 Following the lie-in protest during last week's Cape Town Pride parade, and years of conflict between some activists and Pride organisers, a group called the Cape Town People's Pride Collective have issued a statement, reprinted in full below.
Statement from the Cape Town People's Pride Collective* regarding our recent disruption action at Cape Town Pride
For more than 5 years, since the well-known happenings of Joburg Pride 2012, where the One in Nine Campaign Activists were ridiculed, assaulted and threatened for merely asking for a moment of silence to commemorate the lives lost of Black lesbians from the townships, we have been fighting for our issues to be put at the forefront of pride. Despite attempts to challenge the way in which Cape Town Pride predominantly caters for white gay men, our earnest concerns have been disregarded.
Black lesbians and trans people are dying in our townships. Black LGBTIQAP+ bodies suffer the most violence in this society. We should focus all our resources towards eradicating the continuing scourge of violence inflicted upon our bodies. Black lives matter! The fact that we have to keep repeating this, beg and fight for moments of silence that are then seen as an irritation, is proof that the current Pride Board is disingenuous.
Pride belongs to all individuals. Without challenging patriarchy, racism, capitalism, and classism Pride will remain an elitist racist affair! We say not in our lifetime! We are proud to be a thorn on the side of white supremacist patriarchy! All progressive and revolutionary forces must stand as one and continue to mobilize throughout the year to ensure that the following demands are met.
The Cape Town People's Pride Collective demands that:
Matthew van As be removed from the Pride Board with immediate effect.
an urgent AGM be held to elect a new and inclusive board, representative of our country's demographics.
the name Cape Town Parade/Pride change to Cape Town People's Pride to signify this turning point in our ongoing years' long fight to RECLAIM CAPE TOWN PRIDE!
the 2019 event move away from elitist spaces like Green Point and be held in Langa or Athlone.
the organisers stop copying London and Western-European themes for an African Pride, while side-lining and ignoring African GBTIQAP+ issues! We need to focus on those within this community who pay THE ULTIMATE PRICE for being like us!
Cape Town Pride stop persecuting one of our members, Zintle Olayi for legally acquiring tickets for black people from NGOs, NPO's, Civil Society Movements and the townships.
Pride cannot continue to be a space where people come together and pretend to be united in the midst of the persistent lack of acknowledgment about the injustices towards black LGBTIQAP+ people. In Africa, commemoration and celebration are not mutually exclusive. The lives lost should be commemorated at every Pride event and then we can celebrate them, ourselves and this community.
Our demand for 15 minutes of silence at this year 's Pride being met, after we had to fight and lay our bodies on hot tar, is but a small victory that we claim in the ongoing fight to be represented in a country where we are the majority! How are we even fighting for something that should be a matter of course?
We remain committed to ensuring a united, inclusive and representative Pride commemoration and celebration in 2019. Despite continuous efforts to delegitimize our struggles, we will not be deterred. We will continue this fight, unapologetically speaking truth to power, and we will win this war!
* We stand in allegiance with Joburg People's Pride, from whom we have been inspired to name our collective, Cape Town People's Pride.
•  Cape Town Pride has reacted to this statement. You can read the response here.