Outed gay Brexit whistleblower breaks down in tear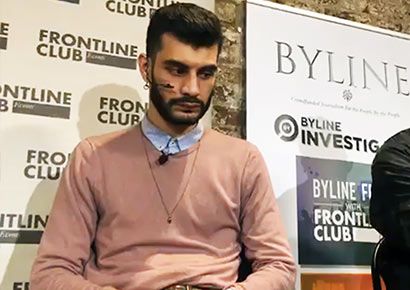 Theresa May's government has been slated for vindictively outing a man who made a series of allegations against the Brexit campaign to leave the EU.
Shahmir Sanni, who was treasurer of the organisation BeLeave, has come forward to claim that the campaign acted illegally by flouting UK electoral spending rules, and that this was covered up.
The prime minster's political secretary, close adviser and Brexit campaigner Stephen Parkinson then issued a statement over the weekend responding to the allegations, in which he revealed that he had a "personal relationship" with Sanni for 18 months.
The statement, which was released by the prime minister's office, outed Sanni, 24, who was still in the closet to his Pakistani family, potentially putting them in danger.
At a press conference at the Frontline Club in London on Monday night, the young man broke down in tears when asked about the personal attack.
"It was fucking shit. I had to come out to my mum the day before yesterday," Sanni said. "You know what, he [Parkinson] knew, he knew that I wasn't out to my mum."
He told the audience: "Number 10, Dominic Cummings [campaign director of Vote Leave] and Stephen Parkinson have stripped me of the most important conversation for me, to have with my mother and my sisters and my family."
Sanni revealed that, thankfully, his mother had taken the news well. "I came out to my mum and she said to me, I love you no matter what and they're doing it to shut you up. I was like thanks momma."
An earlier statement by Sanni's lawyer, Tasmin Allen, described Parkinson's actions as "the first time a Downing Street official statement has been used to out someone".
Allen added that "members of his family in Pakistan are being forced to take urgent protective measures to ensure their safety".
Critics have pointed out that Sanni's sexuality had no bearing on his allegations against the leave campaign and seemed to be little more than a vengeful attack. Pressure is now mounting for May to fire Parkinson.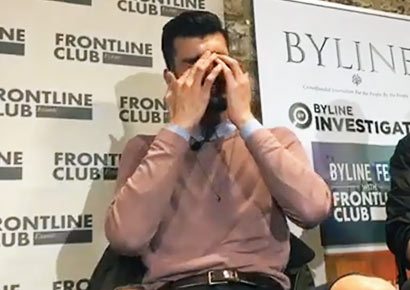 "It is quite something when it's 2018 and the government is attempting to undermine people because they are gay, and not just that, but outing them," wrote Guardian columnist Hannah Jane Parkinson.
Labour MP Ben Bradshaw slammed May in Parliament. "How is it remotely acceptable that when a young whistleblower exposes compelling evidence of law-breaking by the leave campaign, implicating staff at No 10, one of those named instead of addressing the allegations issues an officially sanctioned statement outing the whistleblower as gay and thereby putting his family in Pakistan in danger? It's a disgrace, prime minister, you need to do something about it."
May has for now continued to back Parkinson and said she would not fire him. "No, I'm sorry, that is not what I should be doing, my political secretary does a very good job," she insisted.