Painting masculinity pink with Xodus (pics)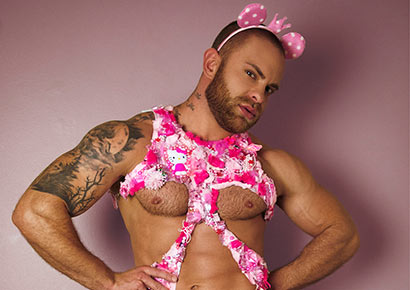 South African photography and design brand Xodus has released a provocative new collection and photoshoot that challenge constructs of masculinity and sexuality.
Featuring model and dancer Charl-Jaquairdo van Helsdingen, the cheeky and sexy campaign combines muscles, pinks and "feminine" pieces, questioning notions of how men are allowed to be represented.
"The concept is something we feel very strongly about; men who can be feminine and how masculinity and femininity is a social construct," said Xodus creator Ruan Jooste.
"Our goal is to open up the spectrum of what is socially acceptable. We love combining feminine and masculine energy into our work, creating a powerful visual image that speaks to men."
The brand was established in Johannesburg and was launched internationally this year. All clothing is made by Xodus from recycled or unconventional materials.
"Being in the tailoring and bespoke menswear industry, I started questioning present day menswear and its limitations, compared to the past where men wore dresses, stilettos and the most decadent jewelry," said Jooste.
"Society dictates what is acceptable for men to wear. We, as men, have to conform to a specific image. The moment we challenge that idea we are considered outcasts. Xodus celebrates diversity and individuality. There are no rules when it comes to fashion. I want to tell every boy out there that it's okay to be you, it's okay to wear a dress and it's okay if another boy dresses different from you; its okay."
Jooste explained that he initially started the brand as a side project as he felt creatively frustrated in the fashion industry.
"It gave me an opportunity to express my creative energy freely and not feel obligated to do it for survival," he said. "The overwhelming response showed me how this could be something more, that there are like-minded men out there who can relate to the brand."
In the future, Xodus is planning more international collaborations, an online shopping experience and growing to a point where it can help more in the LGBTQIA community.
For more information check out their Instagram page or email xodusclothing@gmail.com.