LGBTIQ take to the streets in KZN and Limpopo
This past weekend saw groups of LGBTIQ people in Durban and Polokwane marching for equality and speaking out against discrimination and hate crimes.
Ahead of the International Day Against Homophobia, Transphobia and Biphobia (IDAHOBT) on 17 May, the Same Love Toti Support Group hosted its third annual Beach Walk on Saturday.
The procession along the Duran beachfront saw diverse members of the LGBTIQ community and their families, friends and allies waving rainbow flags and holding up placards calling for an end to stigma and hate.
One sign read, "Dear society, please stop locking people in closets," while others stated, "Love is love, no Ts and Cs" and, "Being LGBT is fine, Homophobia is the crime".
Prizes were handed out to young people who entered a competition to design posters showing their support for the LGBTIQ community and victims of bullying. A moment's silence was also observed to remember those who lost their lives to hate crimes.
Groups including the Gay and Lesbian Network, the Hate Crimes Working Group, the DA and the UKZN LGBTI Forum participated in the event. Organiser Kim Lithgow said the beach walk was a "visible example of inclusion, equality and dignity," adding that, "Straight and gay, transgender and cisgender, all spoke with one voice to make our communities more safe and welcoming for LGBTIQ+."
She told Mambaonline that the event's primary aim is to call for an end to hatred in South Africa. "Homophobia, biphobia and transphobia are the cause of hate crimes, murders and corrective rape. It is also a source of great hardships for LGBTIQ, causing some to drop out from school, become homeless, fall into depression and sometimes commit suicide."
Also on Saturday, the seventh Limpopo Pride march was held in Polokwane. Around a hundred people demonstrated through the streets of the city, singing and chanting for LGBTIQ equality in the province.
Organiser Cindy Maotoana, Director of Limpopo LGBTI Proudly Out, told Mambaonline that, "there is still a lot of hate, discrimination and stigma" facing the community in the region. She said that while visibility for LGBTIQ people in Limpopo has improved, it has come at a cost.
"LGBTIQ people are starting to be more visible but the community is not happy about that. Parents are kicking out children from their homes because of their sexual orientation and taking them to church to be prayed for."
An after party saw around 600 people gathering at Honeymoon Lodge to celebrate the Pride. The DA also participated in the event and a representative gave a speech to the crowd. HIV testing was offered by Anova Health.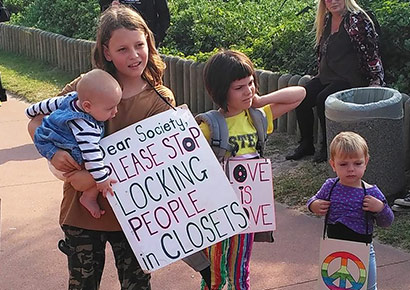 Maotoana said she was frustrated that no government officials or representatives from the ANC had attended the Pride.
"The question today is, where are they?" an angry Maotoana asked. "I don't see any of them here. They need to come and participate with us."
She said that LGBTIQ groups in the province are constantly asked to participate in forums and workshops organised by government just to "tick a box" but "our existence [for the government] stops the minute we walk out the door. When we are outside here, we are outside alone."
She continued: "We're saying as [LGBTI] people from Limpopo, while you are claiming to be with us, show the world that you are with us. We are tired of being with you just behind those doors."