Transgender woman stabbed to death in Ventersdorp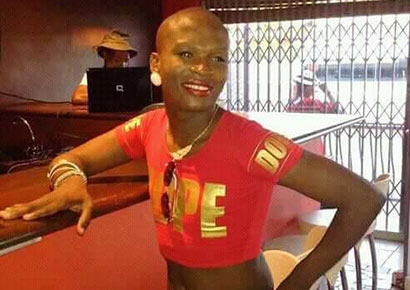 Activists have reported the murder of a transgender woman in Ventersdorp, four years after the horrific murder of lesbian woman Disebo Gift Makau in the same North West town.
The body of 31-year-old Motlhatlhedi "Gustav" Modise was found lying in a pool of blood near her home on Sunday night. According to the police report, Gustav was stabbed in the chest.
Her cousin, Mammy Dingizwayo, told Kokeletso Legoete from the LGBTI Rapid Response Team in North West that Gustav identified as a trans woman. She was born in Ventersdorp but was raised in Potchefstroom by her aunt.
Gustav was the only breadwinner at home, leaving her family not only in mourning but also in a desperate financial state.
"Gustav told me that they are going to Nkandla (a local pub) for just two drinks because she did not have enough money, then later on will be meeting up with friends. That was the last I saw Gustav," said her aunt, Ousi Modise, who lived with Gustav.
There are fears that the murder may have been a hate crime as robbery does not appear to be a motive. Gustav was found with all her belongings; with her handbag and wallet lying next to her body. No arrests have been made,
In August 2014, the half naked body of openly lesbian Gift (Disebo) Makau was discovered in Ventersdorp with a running hose pipe shoved down her throat. Her killer, Stoffel Pule Motlhokwane, received two life sentences for rape and murder, and 15 years for robbery.
"It is quite scary how both Gift and Gustav were murdered. Such hate and violence on a person's body is just unimaginable," said Legoete. "Do we call this just plain violence towards people, by the gangsters in Ventersdorp or do we call it hate crime towards these queer bodies? We are never safe!"
A memorial service will be held in Potchefstroom at the Govan Mbeki Hall, Ikageng, on Thursday 6 September at 13h00. Gustav's funeral will take place on Saturday at the Ventersdorp Tshing Community Hall in Extension 4.