The 10th Ekurhuleni Pride went ahead despite controversies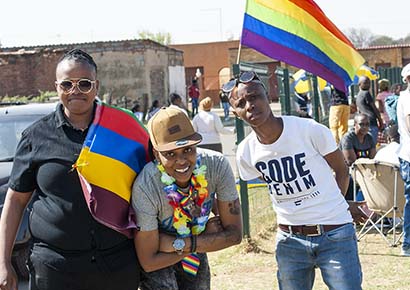 Members of Gauteng's LGBT+ community and allies came out for Ekurhuleni Pride on Saturday to celebrate queer visibility.
The 10th annual event, consisting of a picnic and a dialogue on LGBT issues, was held at Eudy's Park in Kwa-Thema, on Johannesburg's East Rand. The park is named after Eudy Simelane, the well-know lesbian Banyana Banyana soccer player who was murdered in 2008.
This year's Ekurhuleni Pride dress code was traditional wear and the theme focused on ending gender-based violence and attacks against LGBT communities in townships.
Thandeka Sangweni, a 27-year-old lesbian woman who attended Saturday's event, said she felt that the theme was very relevant, especially in the context of the location. "Townships are generally not a safe space for us. We are constantly reminded of the dangers of the place," she told Mambaonline.
"For instance, here [in Kwa-Thema], you have to carefully think and consider before coming to the event because you are scared of being attacked by homophobes"
Despite these fears, Sangweni believes that it's very important that members of the LGBT+ community embrace queer visibility in public spaces. "It is a tough process, but if people are also accepting then that should be fine."
This year's Pride faced a number of challenges, including a last minute change of venue. There was also no march at the event. Some attendees further expressed their frustration at what they called "poor administration."
A local act that was meant to perform at the Pride said they were angered by the fact that they were told on the day of the event that they would no longer be needed. "Everything is just disorganised, we were meant to sing and perform but we were told that something was wrong with the programme, and we were looking forward to it. For that we are now leaving."
This wasn't the only hiccup that Ekurhuleni Pride faced. A media release issued by the Democratic Alliance Rainbow Network claimed that the City of Ekurhuleni had threatened to withdraw its support, after the DA Rainbow Network indicated plans to set up a stall at the event. Mambaonline is investigating these claims further.
Ntsupe commented that the organising group, Epoc LGBTI, "is a non-partisan organisation serving the Ekurhuleni LGBT+ community and welcomes all LGBT+ people without discrimination."
Despite the Pride event not having a march and the organisational hiccups, Mohapi said the event was an overall success.