Juan Pinnick resumes Mr Gay World South Africa duties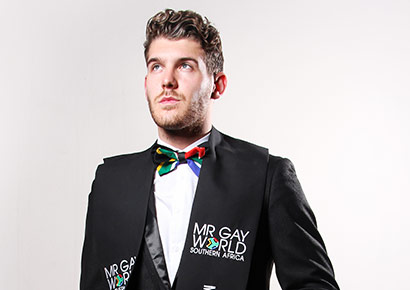 Juan Pinnick, who won the Mr Gay World South Africa title in September 2017, is officially returning to the role.
In April 2018, Pinnick – a photographer from Bloemfontein – was forced to withdraw from competing in the Mr Gay World contest after he underwent an operation on his knee.
Karabo Morake, who was Juan's runner-up in the local competition, took his place in representing South Africa in Mr Gay World, which was held in Kynsna in May.
The organisers explained in a statement that it was made clear at the time that Morake was stepping in for Pinnick for the purposes of taking part in the international event, and Juan would continue to formally hold the Mr Gay World South Africa title.
Having fully recovered, Juan is now resuming his duties as Mr Gay World South Africa 2017. He will complete his reign until a successor is chosen at the next Mr Gay World South Africa competition.
"Thank you to Karabo who graciously stood in for me during the Mr Gay World 2018 competition due to my knee operation," said Juan. "I am fortunate that my road to recovery was successful and I'm officially fit and ready for duty!"
Earlier, Morake expressed his unhappiness on social media, saying he felt that the organisers of the event had not clearly communicated the situation to him. The Mr Gay World South Africa Board of Directors expressed its gratitude to Morake and said it regretted any confusion around the matter.
"We are very thankful that Karabo was willing to step in for Juan and to represent his country at Mr Gay World 2018. We would like to thank him for his support of Juan and wish him all the best with his future endeavours in Germany where he is now residing," said the Board.
To stay informed about Mr Gay World South Africa 2019, follow Mr Gay World South Africa on its online channels: Facebook, Twitter and Instagram.