Breaking! Civil Union Amendment Bill passed by Parliament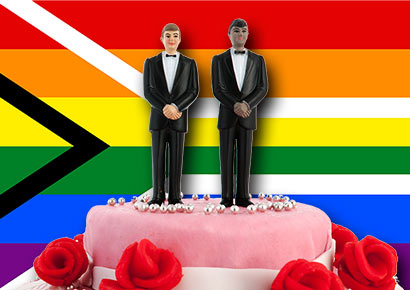 South Africa is a step closer towards full marriage equality after MPs voted on Thursday to approve the Civil Union Amendment Bill.
The Bill, introduced by Cope MP Deidre Carter, aims to remove Section 6 of the Civil Union Act which currently allows state-employed Home Affairs officials to refuse to marry same-sex couples on the grounds of their personal "conscience, religion [or] belief".
The Bill was supported in Parliament by all parties except the African Christian Democratic Party (ACDP), the National Freedom Party and the African Independent Congress.
According to Home Affairs, only 111 out of 412 branches currently have marriage officers willing to marry same-sex couples.
The Bill does not impact marriage officers not employed by the state, such as those affiliated with churches and religious organisations; they will continue to be able to choose which couples they are willing to marry.
"This proposed amendment Bill's importance goes beyond the mere repeal of section 6 of the Civil Union Act," COPE President Mosioua Lekota told MPs. "It touches upon the genesis of our Constitutional Order. It touches that which is most sacrosanct in our Constitution, our Bill of the Rights: the right to equality and dignity; that the state may not unfairly discriminate; and that it has the responsibility to promote, respect and fulfill these rights."
Addressing the ACDP, which has consistently opposed LGBTQ equality in Parliament, Lekota said: "To the ACDP I wish to point out that to my thinking there is dissonance between your religious stance and aversion to gay and lesbian rights and the ethos of most of the world's religions – which advocate love, tolerance and acceptance of all."
Carter told Parliament she initiated the Bill after receiving numerous complaints from same-sex couples who were turned away from Home Affairs offices. She said that the opt-out clause in the Civil Union Act "contravenes Chapter 10 of the Constitution: which sets out the values and principles by which our public administration must be governed; and that services must be provided impartially, fairly, equitably and without bias."
"It cannot be, that in our constitutional democracy, civil servants are afforded the right in law to discriminate as to whom they wish to serve," Carter said. She thanked all "the NGOs and advocacy groups that mobilised and rallied around the issue" for making the passage of the Bill possible.
The Bill includes a controversial 24-month "transitional provision" which will entitle Home Affairs officials who were previously granted an opt-out of marrying same-sex couples to retain this discriminatory right for two years.
The Minister of Home Affairs must, however, ensure that during this transition period there is a marriage officer "available to solemnise a civil union at every Department of Home Affairs office." Any new staff employed by the department will no longer have the option to opt out of marrying same-sex couples.
The legislation will next go to the National Council of Provinces (NCOP). If and when it is passed by the NCOP, the Bill will then be sent to President Cyril Ramaphosa to sign it into law.