ME1st campaign heads for East London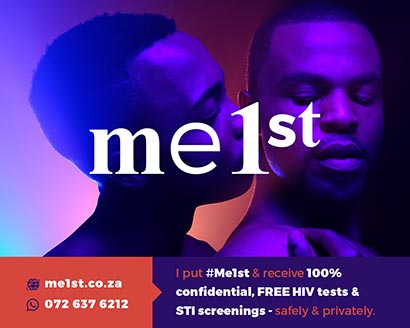 The ME1st campaign is heading to the Eastern Cape this weekend, spreading its message of self-care and support to MSM in the region.
After a successful start to the Me1st campaign roadshows in Kimberley and Bloemfontein, the roadshow will be stopping in East London at venues such as Ebuhlanti, MAN (Mdantsane) and High Way Taxi Rank to mention but a few from the 7th till the 9th of December.
The Me1st movement was recently launched by Right to Care in partnership with Anova, LGBTI Health & Community Centre Durban, SHE, Free State Rainbow Seeds and Lifeline NC.
The Me1st campaign is about ensuring that men who have sex with other men (MSM) prioritise their health, and especially care related to HIV and other sexually transmitted infections, whilst being supported through healthcare systems that are not judgmental and enable men who have sex with other men to access the care they deserve.
To help MSM maintain and improve sexual health, Right to Care has partnered with clinics across the country that provide 100% confidential and discreet HIV & STI screening in an understanding, judgment-free environment.
The Roadshow will continue over the next four months in the following cities: Bloemfontein and Durban and will be targeting MSMs at various locations in these cities both during the day and the evening. Venues will be communicated closer to the time of each activation and can also be found on the ME1st social media pages.
The venues for the East London activations are:
Friday:
Highway Taxi Rank from 14:00-18:00
Ekhoneni (NU1- Mdantsane) from 20:00-00:00
Saturday:
Ebuhlanti from 12:00-19:00
Rhythm Bar (Amalinda) from 20:00-00:00
Sunday:
MAN from 12:00 to 18:00.
Connect with Me1st on Facebook, Twitter, Instagram and their website.