Bohemian Rhapsody pulled as best LGBTQ film nominee over abuse claims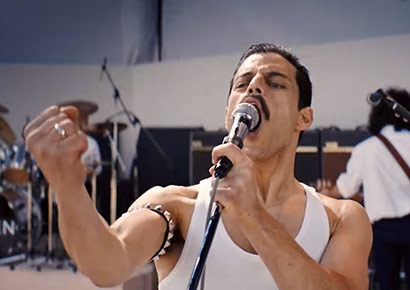 The GLAAD Media Awards have dropped Bohemian Rhapsody as a nominee for best film after new reports emerged about its director's alleged sexual abuse of teen boys.
Bohemian Rhapsody – about the band queen and its LGBTQ frontman Freddie Mercury – was mostly directed by Bryan Singer. The box-office hit won two Golden Globes and has been nominated for five Oscars, including Best Picture.
It was also set to be honoured by the GLAAD Media Awards, which recognises media for their inclusive representations of the LGBTQ community. However, following a devastating article in The Atlantic this week about Singer's alleged molestation of minors, that will now no longer happen.
"In light of the latest allegations against director Bryan Singer, GLAAD has made the difficult decision to remove Bohemian Rhapsody from contention for a GLAAD Media Award in the Outstanding Film – Wide Release category this year," said the organisation in a statement. "This week's story in The Atlantic documenting unspeakable harms endured by young men and teenage boys brought to light a reality that cannot be ignored or even tacitly rewarded."
GLAAD continued: "The team that worked so hard on Bohemian Rhapsody as well as the legacy of Freddy(sic) Mercury deserve so much more than to be tainted in this way. The impact of the film is undeniable. We believe, however, that we must send a clear and unequivocal message to LGBTQ youth and all survivors of sexual assault that GLAAD and our community will stand with survivors and will not be silent when it comes to protecting them from those who would do them harm."
Singer, who has faced similar claims in the past, has been accused by The Atlantic of abusing or raping four men who were at the time between the ages of 13 and 18. The filmmaker has vehemently denied all the allegations and called the article "vendetta journalism" and a "homophobic smear piece."
GLAAD commented that, "Singer's response to The Atlantic story wrongfully used 'homophobia' to deflect from sexual assault allegations." It urged the media and the industry at large "to not gloss over the fact that survivors of sexual assault should be put first."
Singer was fired in December 2017 from Bohemian Rhapsody amid a cloud of controversy. Dexter Fletcher was hired to complete filming and post-production but Singer retained full credit as director due to union rules.
GLAAD's decision was met with a mixed response on social media, with many questioning why all of those involved in the film should suffer as a result of the allegations against Singer.
"WHY should all the others on the Bohemian Rhapsody movie be punished for the alleged actions of one person? It's completely unfair to ALL those who worked their hardest to make this movie happen. Please reinstate the movie to the awards based on its OWN merit," wrote Jo Helmers on Facebook.
Susan Orchard added: "Ok so let me get this straight. You're taking the nomination from Bohemian Rhapsody because of what Bryan Singer did, who was FIRED during production. You're punishing the 15000 cast and crew for something he did?"