Watch this amazing LGBTQ flashmob in India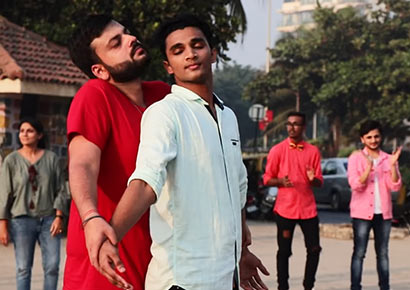 A group of young LGBTQ people have wowed passersby with a flashmob in Mumbai, India, to celebrate same-sex love and gender diversity.
The action is organised annually by LGBTQ rights group The Humsafar Trust, in a prominent location in the city during Queer Azadi Mumbai Pride Month.
"This year it is extra special because it is the first LGBTQ flashmob after decriminalisation of the LGBTQ community," said the group.
The Pride flashmob took place at Andheri station and Worli Sea Face. It starts out with two same-sex couples dancing up close who are then joined by the rest of the enthusiastic group.
Members of the public are seen smiling and filming the impromptu show on their cellphones.
The dancers end the flashmob by shouting out proudly: "I am gay, that's okay, I am a lesbian, that's okay, I am a Hijra, that's okay!"
Writing on YouTube, one person commented: "Young, Energetic and Visible. What tremendous courage in the face of prejudice, guys. Loved the message in the end, that too in Mumbai speak – kya karna mangta hai, hahaha. And the accepting faces of the crowd. So proud of Mumbaikars!"
In September last year, India's Supreme Court ruled that the colonial era Section 377 law criminalising consensual adult homosexuality was unconstitutional and discriminatory. The court found that "sexual orientation is natural and people have no control on it."
With a population of 1.3 billion people, it's estimated that there are about 42 million LGBT+ people in India.
Watch the video below.