Openly gay Pete Buttigieg launches US presidential campaign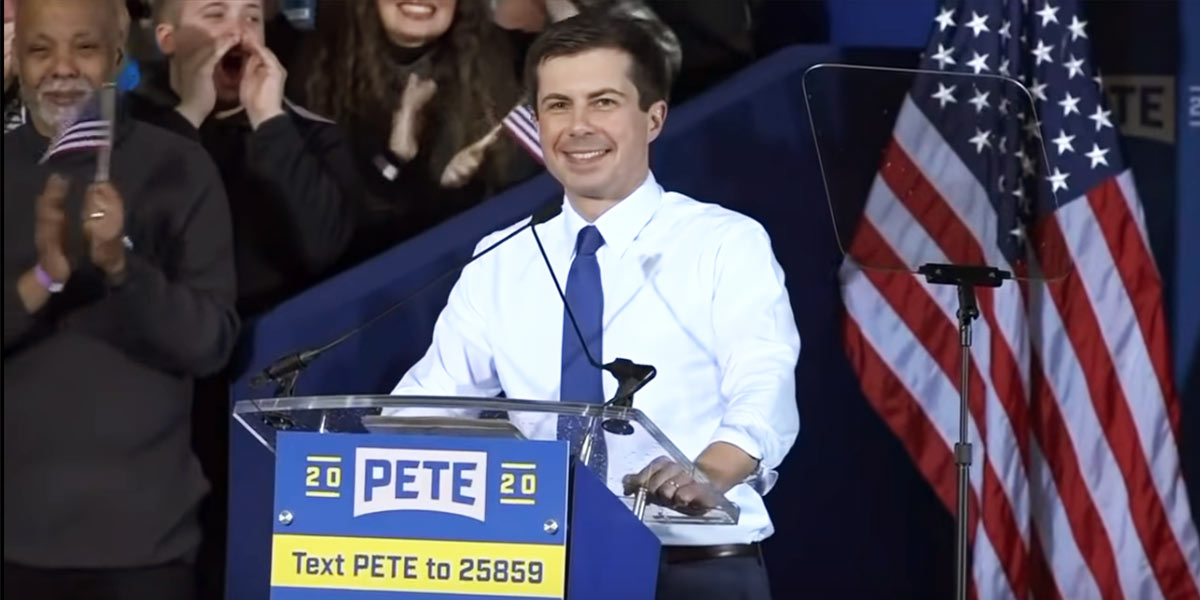 Could a gay man become president of the United States? Pete Buttigieg and his supporters think so after he officially launched his presidential campaign on Sunday.
Buttigieg, who has been mayor of the city of South Bend, Indiana since 2012, is a former Naval Intelligence Officer who served in Afghanistan.
"It is time to walk away from the politics of the past and towards something totally different. That's why I am here today," he told an enthusiastic crowd in his home town on Sunday.
"My name is Pete Buttigieg. They call me Mayor Pete. I am a proud son of South Bend, Indiana. And I am running for President of the United States," he said to cheers and applause.
At the age of 37, Buttigieg would not only be the first openly gay American president but also the youngest-ever if he is elected in 2020.
He is a devout Christian and is married to his husband Chasten, a junior high school teacher. They met in 2015 and have been married since June 2018.
Buttigieg addressed the issue of same-sex marriage in the speech. "Our marriage exists by the grace of a single vote on the US Supreme Court. Nine men and women sat down in a room and took a vote, and they brought me the most important freedom in my life," he said.
After the speech, Chasten joined his husband on stage and the couple kissed and hugged to the delight of the crowd.
In January, Buttigieg announced that he was forming an exploratory committee for a bid to become the first openly gay Democratic nominee for president. While he was not well known at the time, he had gone on to garner significant media attention. He has also already raised more than $7 million for his campaign.
Recently addressing the conservative view that being gay is a chosen 'lifestyle' at the LGBTQ Victory Fund National Champagne Brunch, Buttigieg stated: "If me being gay was a choice, it was a choice that was made far, far above my pay grade. That's the thing I wish the Mike Pences of the world would understand, that if you've got a problem with who I am, your problem is not with me — your quarrel, sir, is with my creator," he said.
While the mainstream media have hailed Buttigieg as the first openly gay man campaigning to become a party presidential candidate, that's not entirely accurate. In 2012, also-gay Fred Karger attempted but failed to secure the Republican nomination to run for president.
A recent NBC News/Wall Street Journal poll found that 68 percent of Americans would be either comfortable with or enthusiastic about a gay or lesbian person running for president. That figure jumps to 75 percent among voters under the age of 35.
Joined by his husband Chasten on stage, Pete Buttigieg, the little-known mayor turned 2020 contender, makes a historic presidential bid.

If elected, he would be the first openly gay president to occupy the White House: https://t.co/tli35MXZoy pic.twitter.com/a1t73F7yYM

— This Week (@ThisWeekABC) April 14, 2019