Emotional Madonna honoured for her LGBTQ activism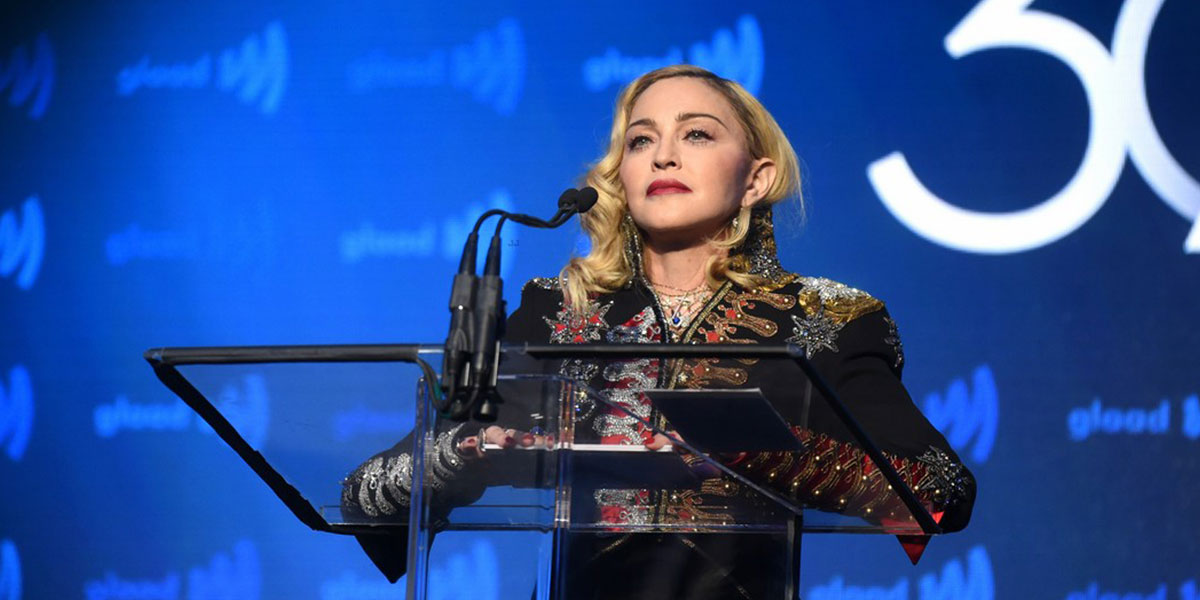 Madonna received a standing ovation when she accepted the Advocate for Change Award at the 30th Annual GLAAD Media Awards in New York.
Madonna is the second person and first woman to ever receive the honour, awarded to a person who, through their work, changed the game for LGBTQ people around the world.
The queen of pop was presented with the award by Anderson Cooper, Mykki Blanco and Rosie O'Donnell. "No single ally has been a better friend or had a bigger impact on acceptance for the LGBTQ community than Madonna," Cooper told the crowd.
Rapper Mykki Blanco added: "Madonna in countless ways has opened doors within this society and industry for queer artists such as myself to shine lighting the way with each of her own personal victories."
Taking to the stage, Madonna thanked the LGBTQ community for inspiring and accepting her.
"Why have I always fought for change? That's a hard question to answer. It's like trying to explain the importance of reading or the need to love. Growing up I always felt like an outsider, like I didn't fit in. It wasn't because I didn't shave under my armpits, I just didn't fit in, okay?" she said.
Madonna spoke of her mentor, gay dance teacher Christopher Flynn, who convinced her to move from her hometown of Detroit to New York City to follow her dreams. He also took her to her first gay club.
"For the first time I saw men kissing men, girls dressed like boys, boys wearing hot pants, insane, incredible dancing and a kind of freedom and joy and happiness that I had never seen before. I finally felt like I was not alone, that it was okay to be different and to not be like everybody else. And that after all, I was not a freak. I felt at home, and it gave me hope," said Madonna.
Madonna's support for the LGBTQ community started at the beginning of her career during the HIV/AIDS crisis in the 1980s. She performed at AIDS benefit concerts, wrote songs about the issue, demanded action and was one of the first mainstream artists to visibilise the gay community and the fight against HIV.
More recently, Madonna has continued to use her platform to support the LGBTQ community, speaking out against anti-LGBTQ laws, policies, and practices in Romania, Malawi, Russia and other countries. Madonna has also participated in intersectional advocacy, speaking at the first Women's March on Washington for women's equality, and condemning Trump's child detention policy.
Saturday's GLAAD Media Awards also honoured the television series Pose for Outstanding Drama Series, Boy Erased (Outstanding Film-Limited Release) and The Assassination of Gianni Versace (Outstanding TV Movie or Limited Series). Janelle Monáe was recognised for her album Dirty Computer (Outstanding Music Artist) while presenter and producer Andy Cohen received the Vito Russo Award, which is presented to an openly LGBTQ media professional who's made a significant difference in promoting equality and acceptance.