Celebration: In remembrance of Adam Levin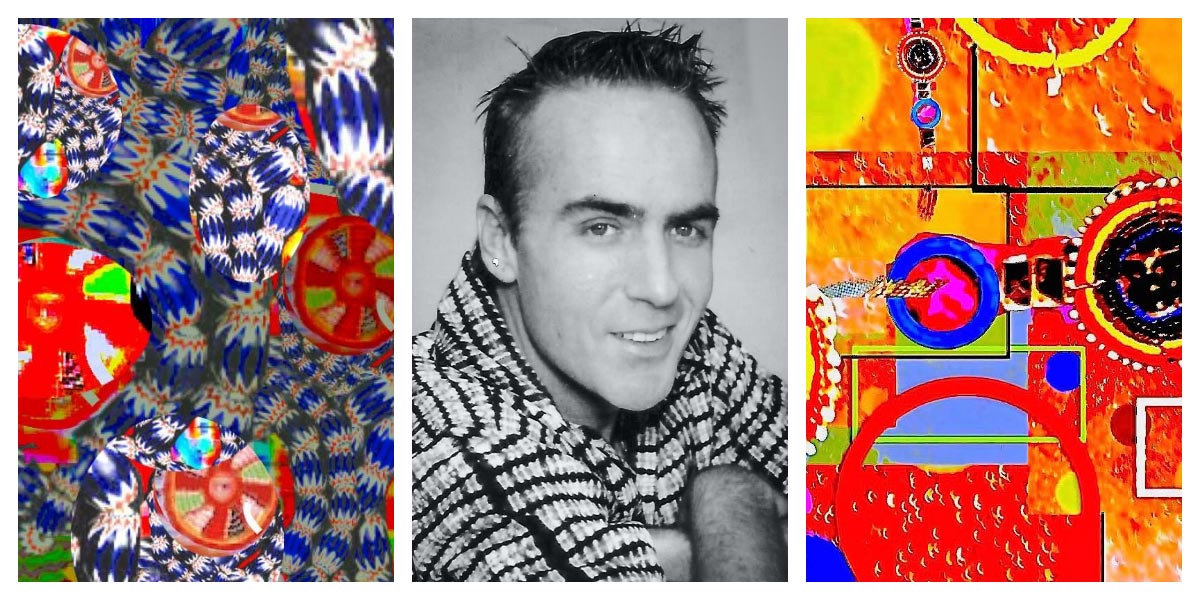 Award-winning author, journalist, design guru and "cultural terrorist" Adam Levin recently passed away at the age of 50. This well-known member of Johannesburg's gay community will not only be remembered for his wit and joie de vivre but also his impact as a proudly gay man living with HIV.
An anthropology graduate, Adam wrote about fashion weeks around the globe for international magazines such as Elle and Dutch. He became a specialist consultant on African popular culture, design and fashion.
In addition to the books, The Wonder Safaris and The Art of African Shopping, Adam won the Alan Paton Non-Fiction Award for his unflinching and also humorous memoir of living with HIV, titled Aidsafari.
The beloved son of Lionel and Louella Levin, brother of Alli and Cathi, he passed away suddenly on 31 May 2019 from a pulmonary embolism. His was a life full of journalism, painting, collecting, creating, adventure and a never-ending curiosity of the vagaries that life held.
The following is a tribute to Adam written by his good friend, Andrew Chandler:
I had known about Adam Levin from my school days- through his sister Allison, and I remember at the time that he had managed to garner quite a reputation for being a quirky, good-looking journalist who wrote for Style magazine. Style is which was what one read in those days as a young desperate suburbanite. We started bumping into each other increasingly, acknowledging the presence of each other over the comi-tragic worn-down late-night bar counters of the gay village in Braamfontein.
The vibe in those days was positively hedonistic as well as non-homogenous, in a country which had recently become a democracy, and Adam positively revelled in the exuberance of it all. We came to know each other, however, more properly, through a mutual friend of ours Merril Plagis – a vivacious Canadian woman- who was a drama queen of note. He couldn't help resisting telling me that once in Maputo when her hysterics had reached epic proportions, Adam asked her very politely if she could "tone down the drama by just 10 percent", which had the predictable effect of completely flooring me, knowing her as I did.
Despite his prodigious visual eye-or perhaps because of it, Adam had an uncanny knack for being able to see through the façade of ludicrously exteriored people, and make them themselves see the satire for what it was, without malice or spite. He was a real jester, a kind of Trimulchio from The Satyricon. His attitude was so urbanely celebratory and refreshing towards all the craziness in the niche nightclub life we inhabited, he basically treated everyone from the most humble bar person to the most impossible drag queen with the same amount of grace. South African gay subculture was very much in its infancy, and ghettocized in those days of the early 2000s, but aside from his brilliant career as a journalist Adam appeared to glide effortlessly and joyfully through a number of milieus, both the salubrious as well as the insalubrious, a kind of fierce Queer Warrior with a surfeit of fearlessness.
It wasn't till a while later when I saw him being pushed around in a wheelchair in Parkview that I realised that there was a deep sadness underneath it all, because he was in fact gravely ill – with AIDS. He looked so weak that I got a massive fright. But, despite his serious condition, that broad-mouthed smile did not leave his face. In fact, a few weeks later there he was – on the legendary dancefloor of Therapy – in his wheelchair. I remember the scenario – one of the killer deep house tracks being played at the time – some demented queen practically spitting out the words "the Drama Starts Here" A club full of sweating gay men – being whipped up into a frenzy by Adam gyrating his torso from the waist up.
Notwithstanding his condition, and thanks to the devotion of his loving parents– he went on to write his seminal book AidsSafari which won the Alan Paton prize in 2006, conjointly with Edwin Cameron. It is an absolute must-read for any young gay person in this country. I clearly recall the absolute look of triumph on his face at the Hyde Park Exclusive Books launch.
The thing is – and herein lies the beautiful paradox, my friend Adam – despite expertly poking fun at the drama in others – positively encouraged it. It was the fuel which fired his life. He had an ability to be supremely talented as a kind of virtual Svengali impresario. I think he tried – often with mixed results – to tone down the drama in both his life and mine, which was a game we both enjoyed playing with an ironic smile. His ability to see life from whichever person's perspective – allowed people the comfort to push more than a few boundaries, and try on a few disguises – much like the African masks he was so fond of and owned.
We often spoke about Kabuki theatre – and I truly think Adam was one of the people I know who could understand the link between much Asian and African ritual. His thirst for transposing visual metaphors was endless and consequently entered into the thought of so much of his writing about art and design. I knew a decade ago who El Anatsui and Yinka Shonibare were – thanks to his contagious enthusiasm. His amazing travel stories as he travelled through Africa entrenched his love for this continent. It's almost as though being here at that time sharpened his mind, and his take on aesthetics, to an even more heightened degree.
I could write volumes about the diverse Adams I knew; there was Adam the collector, Adam, the crafts dealer, Adam the conversationalist, and Adam, the self-destructive clown. Some of the anecdotes are known to many – I think even to people who knew him in passing. In the spirit of one of his favourite books The God of Small Things and the Joni Mitchell track he loved, Both Sides Now – I would like to celebrate the life of an exceptional man- for three wonderful qualities, often in short demand: Bravery, Compassion and Humor.
I love you my friend, and I can still hear that warm voice of yours saying "Hi". You could see 'Life from All Sides' – not just 'Both'. As Johannes Dreyer the photographer remarked to me recently, "He was somebody who left a true footprint."