"The world is ready for this!" Dancing on Ice's historic same-sex dance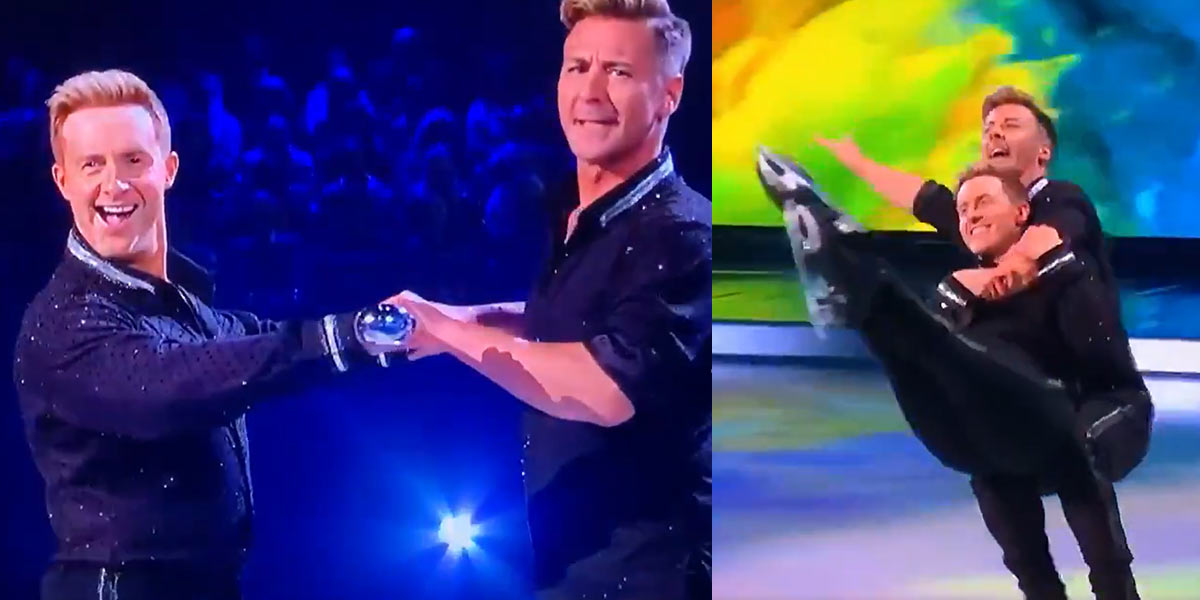 Dancing on Ice has delighted viewers after it became the first TV dance reality show in the UK to feature a same-sex couple in competition.
The audience and the show's judges were moved to tears on Sunday night as former pop star Ian 'H' Watkins and professional partner Matt Evers danced together to the song High Hopes by Panic at the Disco.
The duo's energetic performance, which came in second place for the night, has topped years of debate about dancing competition shows including same-sex couples.
Watkins, who is best known for being a member of the pop group Steps, said ahead of the dance. "I am a gay guy. I always wanted a same-sex partner."
His professional partner, Evers, added: "This year is pretty special. After 11 years of Dancing On Ice, I will have a same-sex partner. I'm really excited and there's no line drawn for us. We're going to set the rules."
Their performance was met with wild applause from the audience and saw actor and judge John Barrowman overwhelmed with emotion. Gareth Thomas, the gay former rugby star who recently came out as HIV positive, was among those in the crowd who cheered on the couple.
Barrowman – who is himself gay – commented: "That makes me happy on a multitude of levels. Seeing two men who represent someone like me. We've shown you can do it. I'm overwhelmed. I'm almost speechless. It was wonderful."
Watkins said: "I feel that I've wanted this for so long. It means so much to so many people. The world is ready for this."
Evers thanked viewers and added: "This is normal."
While Strictly Come Dancing UK has previously featured same-sex routines it has yet to include a competing same-sex couple. Last year, the BBC confirmed that it is now finally willing to allow a celebrity to be partnered with a same-sex professional dancer in a future season of that show.
What an extraordinary routine from @TheMattEvers and @Ianhwatkins in making history, which is so wonderful to see to males dancing together. #DancingOnIce 🏳️‍🌈❤️😘 pic.twitter.com/k3BZHMltIV

— Dancing On Ice (@DOI_UK_) January 5, 2020
Thank you from the bottom of my heart. I felt nothing but love in the room. So proud of @Ianhwatkins and thank you all for the unending support. Now "it" doesn't need to be a "thing". @dancingonice pic.twitter.com/XkTHXHjZJy

— Matt Evers (@TheMattEvers) January 5, 2020
WE DID IT!!!!!!! THANKYOU EVERYONE for your messages of love and support! I'm totally gobsmacked! But tonights skate was bigger than Matt & I… it was a message of equality and inclusion! Let it resound across the world! #DancingOnIce #DOI2020 #TeamHandMatt 👬⛸🌈 pic.twitter.com/u6RrwGQ7YE

— Ian H Watkins (@Ianhwatkins) January 5, 2020