Grief & bigotry as talented LGBTQ musician is murdered in KZN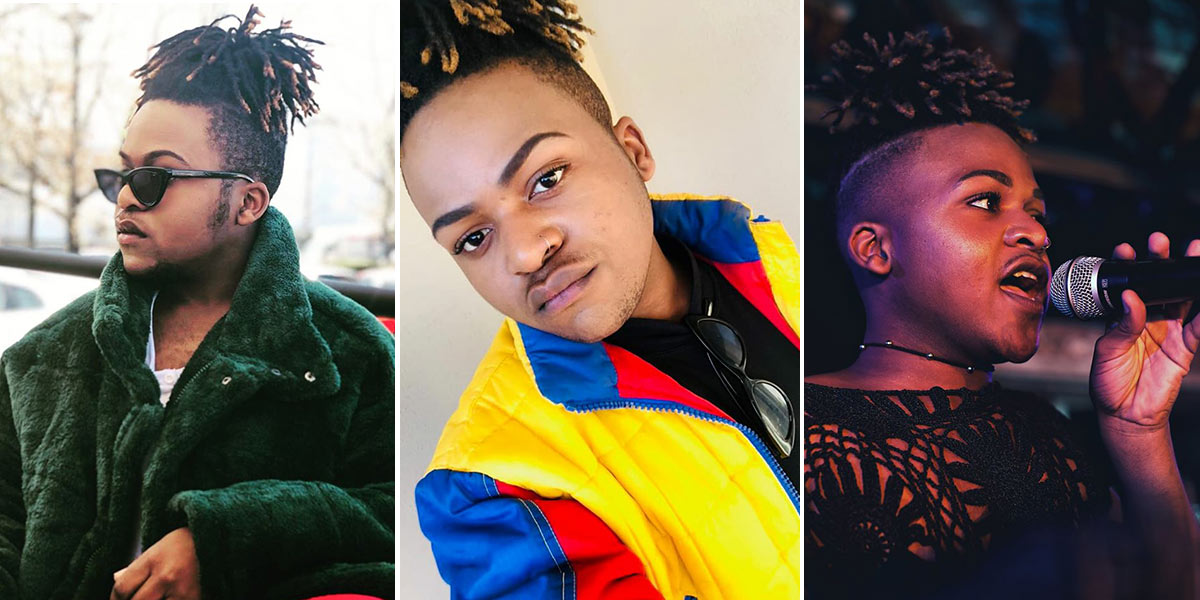 The murder of up-and-coming LGBTQ musician Lindokuhle Cele (also known as Lindo Sea) in KZN is suspected to have been a homophobic hate crime.
The exact circumstances of Lindo's brutal killing remain unclear but according to reports, the 23-year old Cele was murdered last week by a man in a shop in uMlazi, outside of Durban.
The alleged killer repeatedly stabbed the young artist and student. Lindo later died at the Prince Mshiyeni Memorial Hospital.
Lindo's aunt and family spokesperson, Nombuso Cele told SABC News in a harrowing interview: "While he was waiting [at the shop] the culprit came… and took out the knife and started stabbing him on the spine…"
Despite his pleas for mercy, his attacker continued to stab him, apparently without anyone intervening.
The family believe that the killer, who knew Lindo, was motivated by homophobia: "He was against him being gay," said Cele. She added that, "when he stabbed Lindo, the very last wound was in the left eye.. he left the knife stuck in the eye…"
A 30-year-old man has been arrested in connection with the murder and appeared in the Umlazi Magistrate's Court on Monday morning. He will appear in court again on the 17th of February for his bail application.
News of Lindo's murder went viral on social media over the weekend under the hashtag of #justice4lindo, with many paying tribute to the talented performer.
There were also claims that he was murdered after he had earlier protected a friend from being raped by his alleged killer, but this has not been verified.
While many condemned his killing, some shockingly appeared to suggest that Lindo may have somehow been responsible for his fate. One Twitter user, under the name of Dr Nancy M, posted that there were two sides to every story.
"I don't mean to be inhuman but did the killer just woke up and decided to go and stab Lindo? I have gay friends and I love them but [they] have a tendency of approaching straight guys…" she wrote.
Presumably, in response to the resulting backlash, the account has since been made private but MambaOnline did make a screengrab of the appalling post.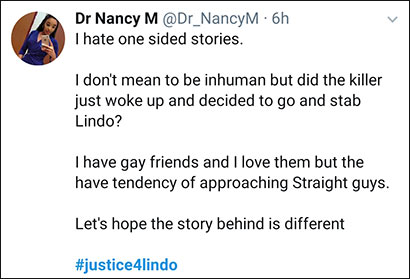 KZN Social Development MEC Nonhlanhla Khoza, who visited Lindo's family on Monday, told East Coast Radio: "Our government and other stakeholders have done a lot to educate our communities about the LGBTQI community. These days, we shouldn't be talking about discrimination or murders that are fuelled by homophobia."
In a statement, the Gay & Lesbian Network said that it was "deeply [saddened] to hear about the tragic death of Lindokuhle Cele. We send our deepest condolences to the family and friends."
AFDA, the arts school where Lindo was studying Live Performance, expressed its shock at his death: "Lindo was well-loved by his family and friends and his flamboyant presence in the local music scene. He was known for his loyalty in his friendships and his activism for the LGBTQI community."
One of his performance lecturers, Philisiwe Twijnstra, had this to say about him: "Lindo Sea was a magnitude of talent and had a heart of joy and a great sense of style. When he sang, his voice made you believe in living. He was a rare talent, and it is so sad that more of the world didn't get to witness such a rarity as Lindo's."
One of our own has been taken from this world trying to do good in this world. One of our own has been taken from us like their existence did not matter. They say we complain too much yet they continue to kill us. 😭😢🌈 pic.twitter.com/TKd7zX0fYU

— THE GAY SUPERHERO. (@MON_DEEE) February 9, 2020
Straight men killing women for rejecting their advances.

Straight men killing gay men for being gay.

When will they stop?#justice4lindo

— Natasha (@dramadelinquent) February 9, 2020