Community rejects bail for alleged killers of "Jamie" Adnaan Davids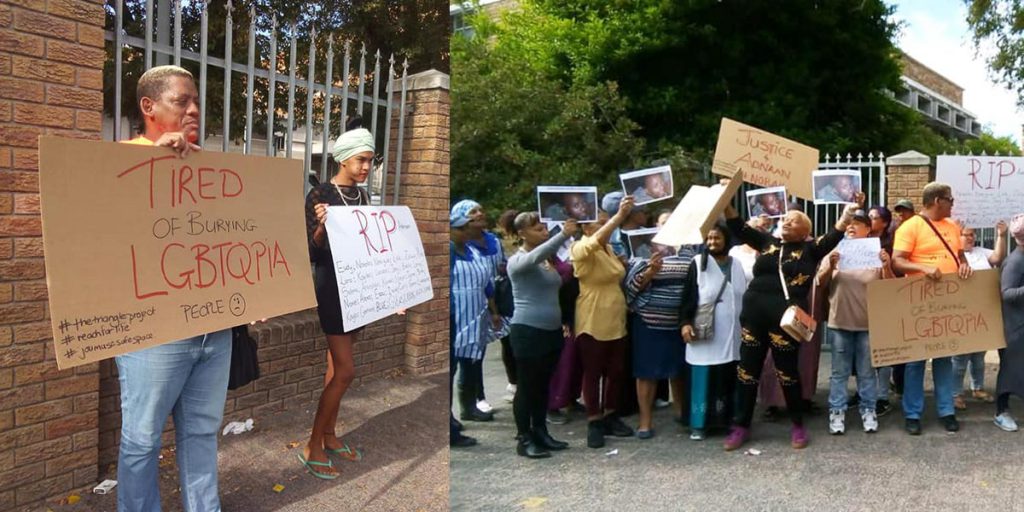 Activists and family members are calling for the three men accused of killing "Jamie" Adnaan Davids in Cape Town to be denied bail.
On 3 March, Davids was stabbed 25 times with a pair of scissors in what is believed to have been an anti-LGBTIQ hate crime. According to Gender DynamiX, Davids "identified as a drag queen and used the pronouns she and her."
On Monday dozens gathered to show their support for the Davids family at the Athlone Magistrate's Court where the three accused – Nazier Ismail, Faizel Rademeyer and Mogamat Aashiq Bachelor – appeared before Magistrate Keith le Keur on murder charges.
The community members not only demanded justice for Davids but also called for the three suspects to be refused bail. Cape Town-based LGBTIQ rights group Triangle Project said that it will be "approaching the court to deny bail to the perpetrators who took the life of Adnaan Davids."
An online petition has also been launched to bring attention to the matter. It states that if bail is granted, it will send a "strong message to the community and to vulnerable groups that their lives do not matter and justice is not done or seen to be done." The bail hearing was postponed until Monday 16 March.
The family of the deceased is convinced that the murder was a hate crime due to the brutality of the attack. The perpetrators reportedly knew Davids and were also aware that she identified as a member of the LGBTIQ community.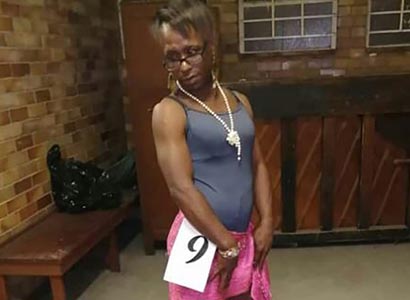 "LGBTIQ lives are proving to be more and more dispensable," said Roché Kester, the Hate Crimes Manager for the Love Not Hate programme at OUT.
Moude Maodi-Swartz, the Paralegal Officer for the programme, added that "it is important for existing structures to find more effective measures to deal with violence against the LGBTIQ community. Government needs to add greater visibility to LGBTIQ issues as civil society organisations can only do so much to create awareness."
Davids' murder took place two days after the annual Cape Town Pride Festival. Also, a day before the Pride Parade, a 25-year-old LGBTIQ woman was accosted by two teenage boys in the suburb of Lotus River in the Western Cape and sodomised with the intention of "correcting" her sexuality.
"While the community may be able to celebrate certain liberties and progresses, it is obvious that there is still a huge amount of discrimination and ignorance toward the LGBTIQ community," said Kester.
"It is clear that drastic measures need to be taken to ensure the safety of LGBTIQ people in our society" she added. "We are in need of allies more than ever to call out homophobic and transphobic speech and attitudes. It has been proven that hate crimes are often resultant from callous and derogatory language. This language becomes normalised in society and is used to send the message, whether directly or indirectly, that LGBTIQ individuals do not have the right to exist safely and with dignity in our communities."
There have been two other murders of LGBTIQ individuals this year in South Africa that are believed to have been hate crimes: Limpopo transgender activist Nare Mphela was found murdered in early January, while up-and-coming LGBTQ+ musician Lindokuhle Cele was stabbed to death in broad daylight in KwaZulu-Natal last month.
Note: This article has been amended to remove reference to an initial report that the alleged killers had sexually assaulted Davids with a stick. This has since been confirmed to be incorrect.