Boipelo's Family Tree: a fruitful literary find for same-sex parents
If you're a same-sex parent, you'll understand the difficulty of finding books that relate to your child's lived experience.
Social philosopher, academic and poet Athol Williams writes that the importance of diversity in children's literature is threefold: it fosters positive self-reception, informs the world that the children perceive, and aids literacy whilst also cultivating a love for reading.
In Boipelo's Family Tree the titular character – a child of two mothers – has to come to grips with many different views surrounding her family structure. In an interview on eNCA, author Mantedieng (Mantis to their friends) Mamabolo cited the decision to write this book as one that was at its core about representation.
In fact, Mamabolo wrote the book precisely because they couldn't find children's books that portrayed an alternative family structure, led by same-sex parents. The offering on the shelves was sparse, and Mamabolo decided to write something their own children could perhaps read one day to see themselves represented in the literature targeted at them.
Born and bred in Benoni, Mamabolo recently relocated to Cape Town and works as an intermediate business analyst at 2U. Amidst their move to the Mother City, this groundbreaking young, queer writer agreed to answer a few questions.
You launched Boipelo's Family Tree in April last year. What has the feedback been from same-sex parents and their children, and from readers at large?
The feedback has been so humbling. Obviously, I hoped to get some good feedback but I was surprised at the reception. Same-sex parents have been nothing but grateful for the book, and just challenging the status quo and pitching it at the young ones who are to follow.
I have had many queer individuals without children buy multiple copies to distribute among their families as almost a statement of affirmation that we exist, and that our existence is valid. Young readers have identified with the story and the characters, seeing themselves in some of them, because although the focus is on Boipelo and her family, I do introduce the validity of other different family structures, including single-parent homes, and adopted children.
What role has your own family played in laying the foundations for a book like this one?
My family has been amazing, allowing me the space and opportunity to bring the book to print. They have been my biggest support system, from loans to print my first batch, providing fresh eyes to guide the manuscript, and holding space for me to fall apart and cry when I would hit a wall in the writing process. My family extended as far as the project being a family affair when I found my illustrator in my then-17-year-old nephew, Yamkela Mayisela. They have all been an integral part of the book actually making it to bookshelves around the country.
What advice do you have for new and prospective same-sex parents?
I must make it known that I am yet to be a parent, but I think the most important lesson I have learnt from my own parents and also my siblings raising their own children is that you, as the parent, need to be the loudest voice in your child's head. That voice needs to speak confidently and it needs to affirm always. It needs to be strong and guide your child even in the toughest of situations. It has to be so reassuring that your child trusts the directions, and that no other external 'noise' can ever break them.
Are there any plans to write more books pertaining to the LGBTQIA+ experience?
In my in-between moments, I am busy completing the next manuscript for the next book in the Boipelo series. I want to tackle different life situations that I imagine that my future child(ren) will encounter, and write to those issues through the eyes of a young one – but powerful enough that the lesson, although slightly different for the child, is still a lesson for the adult reading out loud to the child.
Where can people buy the book, and are there any upcoming events where our readers can see you?
The book is available through myself on the Facebook page, so anyone can visit the page and drop me an inbox, and I will arrange delivery of a signed copy of the book. Alternatively, the book is available on the amazing online bookstore www.ethnikids.co.za and at the Book Lounge in Cape Town. I am currently not hosting any events, as I am stuck in the move but please go like the page on Facebook for updates and news on when the next edition will be launched.
What are your hopes and expectations for the youth of South Africa, and where do you see the local LGBTQIA+ community in the future?
My hope for the youth of South Africa is for them to do better than us. To prosper. To be kinder. To move past 'tolerating' and 'accepting' those who are different, but rather hold space for people to be themselves in whichever way that looks and feels like. My outlook on the future of the LGBTQIA+ community is complex. The visibility and pride and rainbows give the illusion that we are moving towards a world where we as queer people are included not as a concession, but because we deserve to occupy space.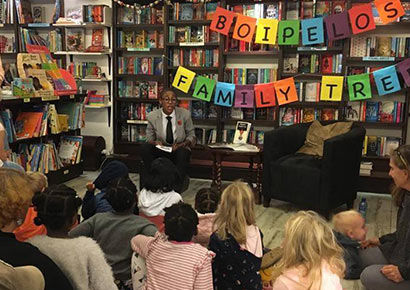 But every time I start to believe that, another black trans womxn is brutally beaten and killed, a young gay man who matched his beard with his favourite shade of lipstick is murdered, or a queer teen takes their life because of bullying.
I want to be hopeful but I do not have that privilege. I can only hope that those dedicated to the work that is the validation of queer bodies continue to do that work and fight efforts to erase identities that stray from the cishet construct.
Buy Boipelo's Family Tree online on the Boipelo's Family Tree Facebook page, or visit www.ethnikids.co.za.