The queerest musicals of all time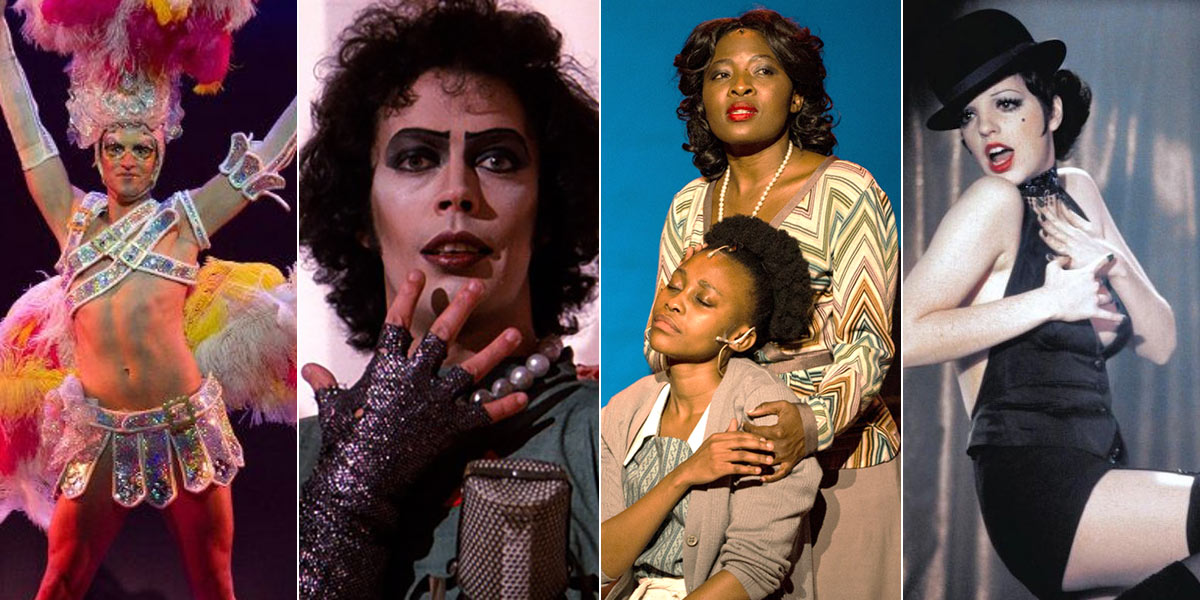 Gay men have been fascinated by musicals for as far back as we can remember. Here's our list of the queerest musicals to have graced the stage and screen.
When Renée Zellweger took home the Best Actress Oscar for her depiction of silver screen legend Judy Garland earlier this year, you can bet the gays were cheering.
Such an influence has Garland on gay culture, that The Advocate has called her the "Elvis of homosexuals". To refer to someone as a "friend of Dorothy" has also been a mainstay of gay slang, referring to Garland's iconic role in The Wizard of Oz.
Judy Garland is but one of a host of icons from musicals – on stage and screen – that are revered in the gay community. These artful and entertaining spectaculars have long been popular among gay men in particular – but why do gay men like musicals so much?
The first film depiction of gay men in the world of musicals fittingly comes from the very first all-sound movie musical, 1929's The Broadway Melody. In the film, Drew Demarest plays a rather mean-spirited effeminate male costume designer. Of course, Demarest's character was, as many other homosexual characters in films of the time were, thoroughly drenched in stereotype.
Indeed, the theatre world had always been a place where gay people were accepted. Aside from homosexual writers, composers, actors and singers being an indispensable part of the overall art and entertainment movement, this was a space generally associated with deviancy of some kind – so much so, that hotels and boarding houses in the 19th century often put up signs exclaiming "We Don't Let to Theatricals!"
It makes sense that it was among these theatricals, these outsiders, living somewhere on the fringe, that homosexuals could find a home where they weren't ridiculed.
In his book, Screened Out: Playing Gay in Hollywood from Edison to Stonewall, film historian Richard Barrios writes, "The film industry was perhaps the country's biggest secret haven for gay men and lesbians, who were under contract to all studios as creative personnel, staff, and talent. Although an official code of silence protected their personal lives from public scrutiny, they were often able to impart glimmers of secret selves to the films they helped to create . . . Gays onscreen in that era were exactly like gays in real life: constantly present, fully integrated into the dominant hetero world, yet knowable only to those who would know them."
Today, musicals like Hedwig and the Angry Inch, which openly depict the LGBT experience, have become legendary among all audiences, not just gay ones. Maybe this fascination with a milieu where the issues of the day still exist (albeit against a backdrop of show tunes that can make you split your sides or sob at the drop of a hat) is a way to stay optimistic in trying times.
Maybe gay men identify with the struggles of the characters and enjoy the camp way in which characters overcome their problems. Maybe musicals are escapism, pure and simple – and who doesn't need some magical escapism when faced with an unfriendly and queerphobic world.
Or perhaps musicals are simply, as John Kenrick writes, "where all art forms (literature, dance, drama, music, the visual arts, etc.) come together to form as complete an artistic expression as Western civilization can lay claim to."
Here are nine of the queerest musicals of all time!
Avenue Q
A Broadway musical comedy featuring puppets and human actors. The show won Best Musical, Book, and Score at the 2004 Tony Awards. Avenue Q deals with themes like racism and homosexuality. One of the characters, a blue puppet named Rod is a closeted homosexual who's urged to come out the closet.
Cabaret
Cabaret was first a hit 1966 Broadway musical which was turned into a 1972 film directed by the legendary Bob Fosse and starring Liza Minnelli. Set in 1931 Berlin, it focuses on the nightlife of the Kit Kat Klub, and the relationship between a bisexual American writer and a cabaret performer. It won a whopping eight Academy Awards!
La Cage aux Folles
Based on the 1973 French play, La Cage aux Folles opened on Broadway in 1983 and was one of the first hit musicals to focus on a same-sex relationship. It won six Tony Awards and is famous for the closing song, I Am What I Am, which quickly became a gay anthem. There is also the non-musical 1978 Franco-Italian comedy film version and of course the hilarious 1996 American (non-muscial) comedy film The Birdcage, which starred the late Robin Williams.
Hedwig and the Angry Inch
The edgy Hedwig and the Angry Inch started out as a 1998 stage production created by Stephen Trask and John Cameron Mitchell. Mitchell also initially starred as the title character, Hedwig Schmidt, a genderqueer East German lead singer of a rock band. He later reprised the role for the fantastic 2001 musical film which was a financial flop but has developed a cult following.
Priscilla Queen of the Desert
The Adventures of Priscilla, Queen of the Desert is one of the LGBTQ community's most beloved films. This 1994 gem deals with two drag queens and a transgender woman on a journey across Australia on a bus named Priscilla. The story was reimagined for the stage in 2006 as a full-blown musical featuring existing gay-anthem pop songs and has seen multiple productions around the world.
Rent
This 1993 rock musical is based on Puccini's opera La Bohème but concerns a group of struggling young artists in New York City. Rent deals with sexuality, drugs and art amidst America's HIV/AIDS crisis. It was one of Broadway's longest-running shows and won the Pulitzer Prize for Drama and the Tony Award for Best Musical. It was adapted into a less successful 2005 musical film featuring most of the original cast members.
Kinky Boots
Kinky Boots was originally a 2005 comedy-drama film. It tells the story of the owner of a struggling shoe factory who partners with a drag queen to save the business. While it received mixed reviews, it was adapted into an award-winning and very successful 2012 Broadway musical featuring music and lyrics by Cyndi Lauper (and starring the now-iconic Billy Porter).
Rocky Horror Picture Show
Richard O'Brien's underdog of a musical started life as 1973 London production that humorously paid tribute to cheesy b-grade science fiction and horror films. It truly became a global phenomenon through the 1975 musical film that featured the iconic Tim Curry and Susan Sarandon. Acknowledged for its groundbreaking depiction and celebration of sexual fluidity (the film was actually banned by the apartheid government), Rocky Horror remains a popular stage musical and cult film favourite.
The Color Purple: The Musical
The Color Purple has a fascinating history of queer erasure. The 1982 novel by Alice Walker follows the journey of the bisexual Celie, an African-American woman in the American South from the early to the mid-20th century. The book's same-sex romance was only hinted at in the 1985 Steven Spielberg film starring Whoopi Goldberg and Oprah Winfrey. In 2005, the musical version opened on Broadway and was a huge hit on South African stages.
Others musicals you should check out if you get the chance include Hairspray, Naked Boys Singing, Kiss of the Spiderwoman, Taboo and The Boy From Oz.