Alberton man's queerphobic religious rant goes viral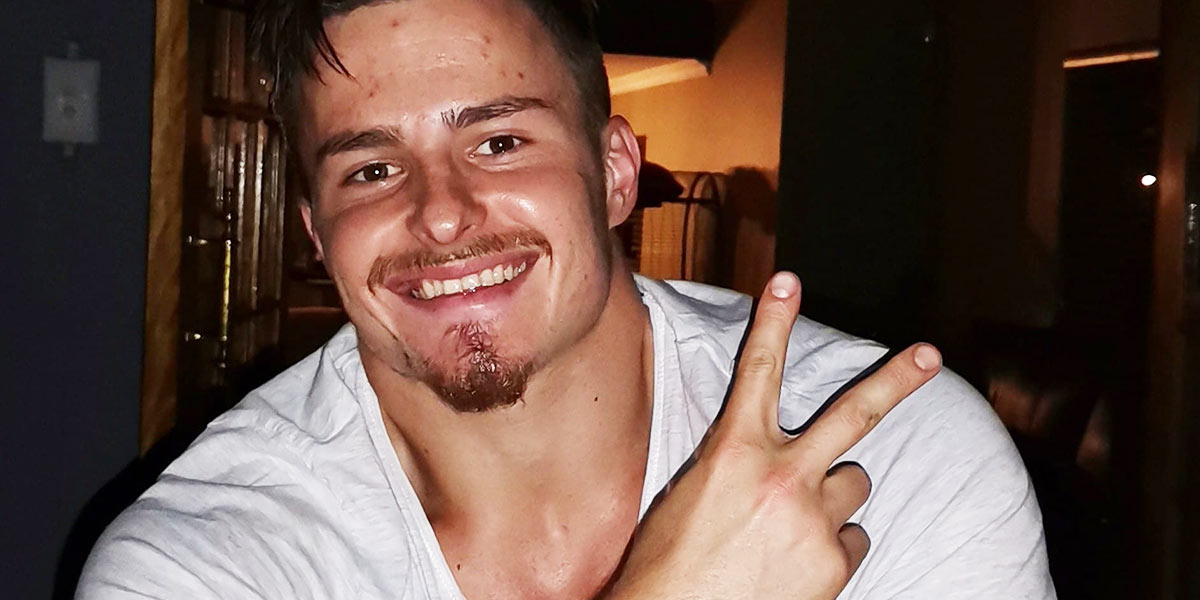 An Alberton man has sparked outrage after posting a queerphobic religious rant asserting that LGBTIQ+ people are created by the devil.
On Tuesday, Tiaan Van Graan was inspired to take to Facebook to condemn members of the LGBTIQ+ community, and not bothering to be very subtle about it.
"GOD CREATED A MAN FOR A WOMEN AND A WOMEN FOR A MAN, AND ONLY A MAN AND A WOMEN CAN CREATE A BABY, PERIOD," he stated.
He went on to add: "THERE IS ONLY 2 GENDERS MALE AND FEMALE, THE OTHERS ARE CREATED BY THE DEVIL TO CONFUSE PEOPLE, AND TO TWIST GODS CREATION."
Alarmingly, perhaps to stress the apparent significance of his views, Van Graan – who also goes by the nickname 'Tbone' – has a tendency to post in all caps. According to his Facebook page, he is a personal trainer who describes himself as a "man on fire for Jesus Christ."
The public post has since received almost 1,000 comments at the time of publishing. The vast majority of commentators have spoken out against the hateful diatribe and pointed out Van Graan's self-righteous hypocrisy, ignorance, bigotry and extreme hubris.
"Don't ever judge God's creations. He doesn't make mistakes. But you just made a big mistake by judging us," responded Ralph van Rooyen.
Miguel Wolf Ferrari commented: "I used to think you had a good positive message, but it turns out you're the one who needs forgiveness from God. If at your age you still need to be made to understand that nobody chooses their sexual orientation (just like you didn't), you need more than forgiveness, you need simple education because bru you're embarrassing yourself."
Johannes Goosen added: "Wynand van Graan please do keep your unfounded self-righteousness for yourself. For too long have people such as yourself abused freedom of speech, thought and religion as weapons of self-defence to defend your ignorant and discriminatory behaviour."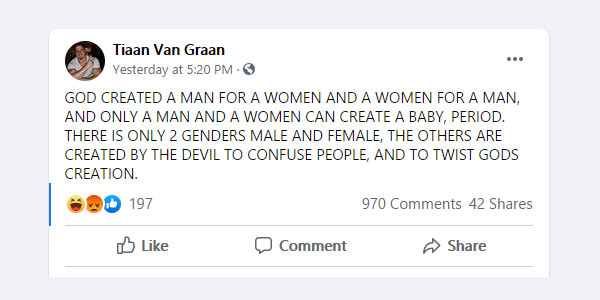 Van Graan remains unrepentant, possibly enjoying all the attention and sudden infamy. He went on to post himself singing along to Christian hip-hop and quoting scriptures painting himself as a martyr and the real victim in the matter (a predictable trope of the religious bigot).
"Blessed are you when people revile you and persecute and utter all kinds of evil against you falsely on my account. Rejoice and be glad, for your reward is great in heaven, for in the same way they persecuted the prophets who were before you," he pompously asserted.
Should you feel that Van Graan's comments are unacceptable you are free to lodge a complaint with the SA Human Rights Commission.