Here's new local queer music to thrill you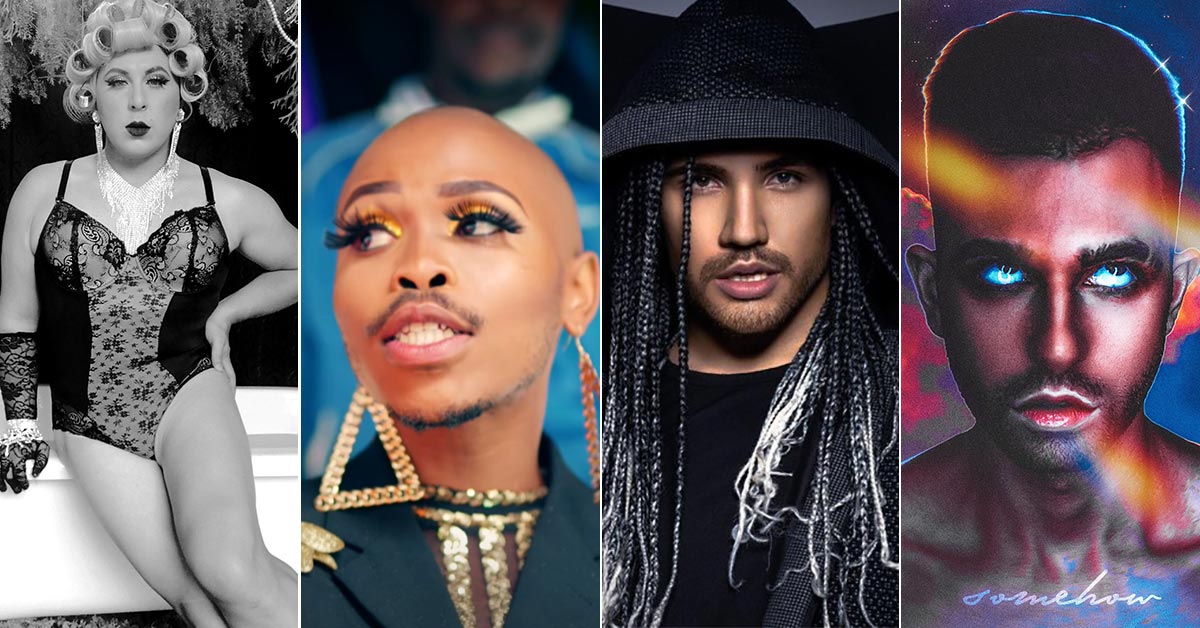 LGBTQ artists are out there making new music to disrupt, inspire and give joy to the soul. Here's a batch of fresh local queer music releases you need to check out.
Mr Allofit – Nguban' Ozosnqanda?
The self-proclaimed Superstar of the Century is back with "a cross-generational street ballad". Produced by Lindokuhle Malloy (aka B1), Nguban Ozosnqanda is described as a "sonic fusion of a kwaito bass progression and classic South African 80s bubble gum chords laced with hip hop styled snare drums." It's a nostalgic homage to the quintessential South African street style with an updated futuristic twist.
The title translates to 'who is going to stop us?' "I wanted to speak about the struggles black queer femmes go through," says Mr Allofit. "In South Africa, although we're still endangered, queer bodies have a privilege others in parts of the world do not, where they are oppressed by the law." A song about the power of community, Nguban' Ozosnqanda? connects people with like-minded ideas on LGBTQIA+ issues, fashion and style. "This song is a homage to those people. I want all those people to feel empowered through this song," adds Mr Allofit.
Armand Joubert – Unfold and Tell Me Now
Ahead of the release of his new EP, Left with a Broken Heart, the prolific Armand Joubert (aka AJ) has released two slickly produced tracks that highlight his 5-octave voice. He says he's "ready to share his truth on heartbreak and struggles" with the collection, which is dominated by a 90s R&B sound. It's inspired by the likes of Babyface, Toni Braxton, Michael Jackson, Brandy and Mariah Carey.
The track Unfold, produced by award-winning singer/songwriter and producer "Sloani" from David Gresham Records, leans towards disco R&B. "Unfold is about the frustration one faces when you're in a relationship and someone is not honest with you, whether it's friendship or romantically," he says. "Always follow what your heart is telling you because the devil disguises himself in light sometimes and we end up getting hurt by people we didn't expect it from, but somehow we knew it was going to happen because you felt it in your gut. Trust your gut!" With 5 number one radio hits in the past two years, Armand is a force to be reckoned with. Below is his other recent single, Tell Me Now.
Shenay O'Brien – Believe acoustic (Cher cover)
Raw, emotional, real and vulnerable. The inimitable Shenay O'Brien, undoubtedly South Africa's top live drag singer, puts her pipes to the test with this stripped-down cover of Cher's dancefloor classic, Believe. The darker arrangement reveals the heartbreak behind the lyrics. "I recorded this acoustic piano version of Cher's massive 1998 hit a while ago," Shenay says, explaining that the tone reflects the uncertainty of our times. "These past few months as an artist have been tough, gruelling and hard. I believe we will get through this and perform again and find our places on our stages where we belong," continues Shenay.
Leo Burg – Somehow
We don't know much about Leo Burg, but we came across his haunting new indie-pop release, Somehow, on social media and fell madly in love with the moody and introspective track. We do know that Leo is a graphic designer and blogger from Joburg who has at least two other music releases to his name. Somehow was produced by McK Records and was co-written with Armand Joubert (see above). "I believe that this single is a journey/experience through emotional darkness into the light," says Leo. Check him out on Instagram.