Here's your Pride Month SA queer music playlist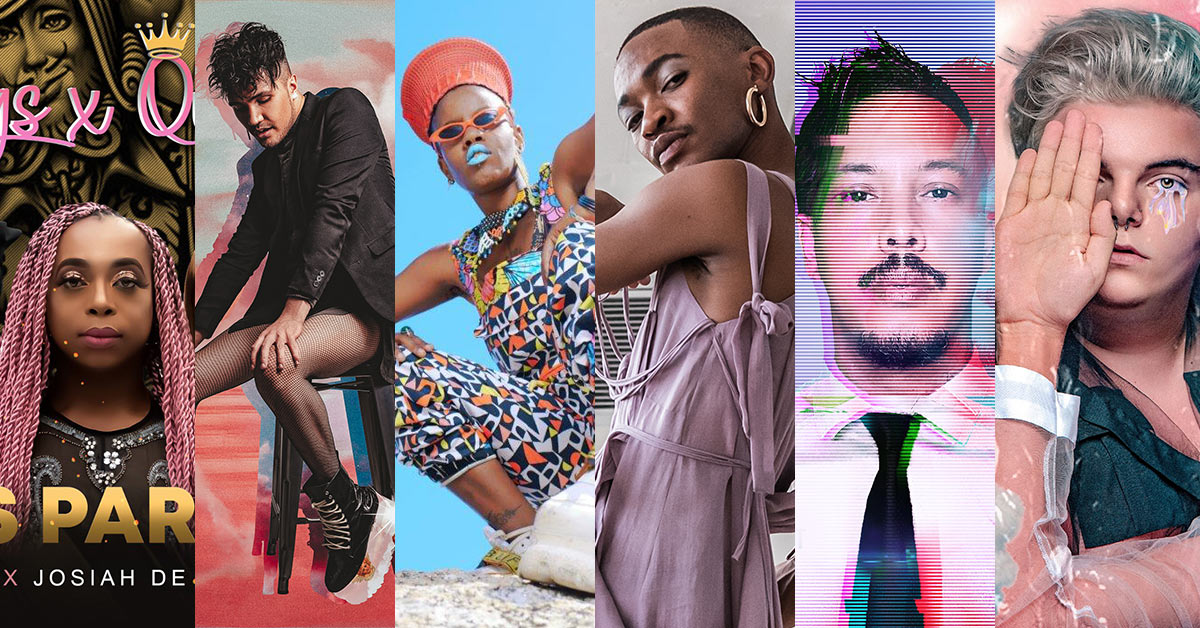 A host of South African queer music artists have released a diverse selection of stunning releases during international Pride Month.
With party anthems, heartbreaking ballads and affirming rallying cries, here's what you can listen to, stream, watch and download this month to support our own – and to make your heart burst with Pride!
Ms Party – Kings X Queens
Also known as DJ Olwee, Ms Party's driving new dance track Kings X Queens is a collaboration with Josiah De Disciple and Lady Du on vocals.
Olwee (Olwethu Mlotshwa) is one of Jozi's top party and club DJs and, of course, a multi-award-winning reality TV director. Kings X Queens is their first long-awaited (finally!) single and it has been welcomed with open arms by Mzansi music lovers.
Not only is the track a full-on dance-floor filler, it also makes a statement about gender fluidity with lyrics about "boys on heels… boys who are queens" and "girls who are kings…"
Kings X Queens has already made an impact on the 5FM top 10 dance chart and is available right now on major streaming platforms.
Armand Joubert – Better for Me
South Africa queer pop prince Armand Joubert is back with his brand new banger Better For Me. The track, produced by German-SA producer Hendrik Joerges, is about forgiveness and allowing yourself to heal from the hurt of the past.
It's a slick and polished tribute to the music that inspired Armand while growing up. "Since I was a young boy I've always been a massive Britney Spears fan. She was the reason that I fell in love with pop music and over the years I've discovered a lot more of her vocal mannerisms in my own voice and music. So I decided that with my new release I want to channel her and showcase the influence she's had on me and my music."
Armand is no stranger to the SA music scene, with five number 1 radio hits and performances on shows like Dancing with The Stars, The Voice Season 2, Expresso and Morning Live.
Better For Me also highlights his vocals with his use of Arabic and Bollywood influenced scales. "I truly appreciate and acknowledge the skill that these artists have so I wanted to showcase that as well with my voice in Better For Me," says Armand.
Better For Me has reached the Jacaranda FM SA TOP 20 and the 5FM 5 Nights Dance Chart, and is available for streaming on Spotify and Apple Music.
Toya Delazy – Resurrection
Sama-winning music star Toya Delazy has dismissed a recent newspaper piece writing off her career with the release of Resurrection, the first single from her new album, Afrorave Vol. 1, recorded entirely in IsiZulu.
Co-produced by South African producer Mxshi Mo, Resurrection is a soul-reaffirming reintroduction to one of our community's most expressive young artists.
The music video, directed by Cape Town-based Kyle Lewis, is wild, expressive and surreal, working in African tribal motifs, zombies and VHS party footage. The bold, conceptual video makes a suitable visual bed for the innovative and impactful crescendo of techno, bassline and African percussions bedded under Toya's trademark Zulu raps.
"The song is about reclaiming myself, my spirit and roots, and more generally in a post-lockdown world, the global rebirth… AKA we're all going to be party animals!" says the now London-based Toya about the track.
You can stream or download Resurrection and Afrorave Vol. 1 from major digital platforms.
Mx Blouse – We Can Fall In Love
If you're looking for a smooth and sexy bedroom track, look no further than Mx Blouse's stunning We Can Fall In Love.
It's an alt R&B-infused offering, produced by Lakei and mixed and mastered by Jumping Back Slash. Recorded over an afternoon in Cape Town, the song is a conversation about intimacy and the birth of a new romantic partnership, told from the perspective of one of the people involved. It's described as "a song about consent, vulnerability and companionship."
Appearing on the music scene in 2016, Mx Blouse mixes dance, hip-hop and kwaito music styles. They've since released several critically acclaimed singles, EPs and an album, landing on Apple Music's Best 100 Songs of 2019 with the single No Match.
The artist has performed at some of the most coveted festival stages including Oppikoppi, Basha Uhuru, Design Indaba Nightscape and Lighthouse Festival, in addition to touring in Germany and Switzerland.
We Can Fall In Love is available for download and streaming on major digital platforms.
Latheem – At First Sight
Award-winning singer/songwriter, producer and LGBTIQ+ activist, Latheem Gabriel, released his latest track, At First Sight earlier this month.
At First Sight is a 70s style funk track with modern infusions; the fifth single to be released by Latheem and his first for 2021. It also serves as a deeper exploration of his love of R&B and soul.
It deals with the heartache of the never ending search for real love, as Latheem explains: "I was inspired to write this song after a breakup I had gone through a few months ago and I realised that I was stuck in a cycle of falling in love over and over again with the same result."
The release of the single comes shortly after Latheem received the award for 'Contributing Musician of the Year' at this year's Hero Awards for his contributions as an artist within the LGBTIQ+ community.
At First Sight is available on Spotify.
Makhosi Lwazi – He Loves Him (Feat. Nomvula Munnie)
Makhosi Lwazi's smooth Afro soul and jazz ballad He Loves Him features Nomvula Munnie on vocals. It's a tribute to the LGBTIQ+ community and honours the trials and tribulations that many of us face just for loving another person.
The Durban-born songwriter and producer says he wrote the track back in 2009 after someone came out to him but only recently recorded it.
His reason to release it now during Pride Month is heartbreaking: "I've never had the courage to put this song on record for the past 11 years until this year, after my cousin Sphamandla Khoza, who was openly homosexual, was found brutally murdered because he was living a different life."
Makhosi's produced albums for artists like Skhona Magadla and Abafana Baka Khabinja and is working on a compilation album of various artists (titled Out of the Closet) that's due for release later this year.
Armand Joubert & Yahto Kraft – Cry
Here's another release this Pride Month by the prolific Armand Joubert, but this time in collaboration with fellow queer artist Yahto Kraft. Cry is described as "an anthem to the broken hearted, yet a reminder to take no prisoners."
Yahto is best known for his star turn on season 3 of The Voice SA, through which viewers fell in love with the gifted singer and his unique sense of style. With more than 12 years of experience in the performing arts, Yahto's critically acclaimed debut single Ugly in early 2020 showed that he is a true artist in his own right.
"Cry was a healing process and has allowed me as an artist to express my emotions in a way I never thought possible before," says Yahto. Armand adds: "In the process of creating Cry, I was reminded that it is okay to feel low and to be in touch with your vulnerability. I suppressed my anger for too long towards people that hurt me and this song allowed the wall that I built to be broken. It's okay to cry even though you don't wanna."
Cry is out on major digital platforms.