LGBTIQ+ workshops set to empower this Pride month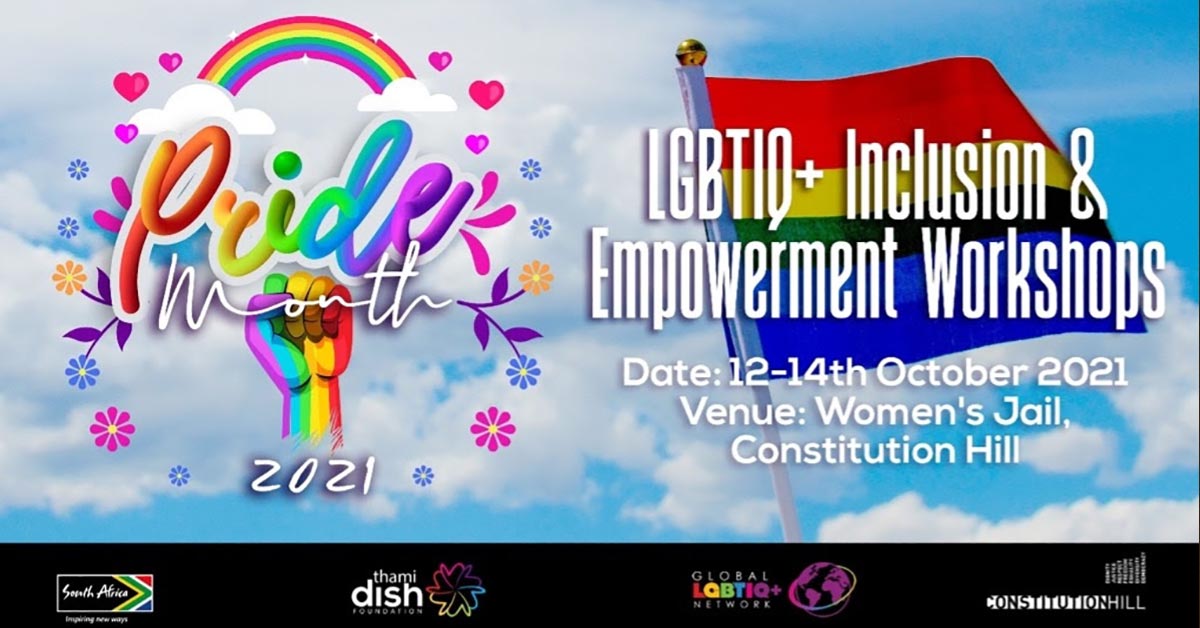 In celebration of Pride Month 2021, the Thami Dish Foundation, alongside various key stakeholders, has launched the 2021 LGBTIQ+ Inclusion & Empowerment Workshops set to take place at Constitution Hill in Johannesburg this week.
The carefully curated Inclusion and Empowerment Workshops aim to encourage greater inclusion within all sectors of South African society.
They will feature industry leaders, senior government representatives – including the minister of justice – and members of the LGBTQI+ civil sector community gathering in conversation and for sensitisation training and network-building opportunities.
The four-day-long workshop will take place in the second week of Pride Month from Tuesday, 12th to Friday 15th October, at Constitution Hill in Johannesburg.
These informative workshops will explore four main themes:
• Justice & Law
• Media & Communication
• Diversity & Inclusion in the Private and Public Sector
• Mental Health
In addition, a market day and a half-day business clinic will also be run parallel to the workshop to support young LGBTIQ+ entrepreneurs and small business owners during the course of the program.
Powered by the Gauteng Tourism Authority, The Department of Justice, Brand South Africa, Proudly South Africa and Constitution Hill, the workshop welcomes all South Africans to attend.
Workshop registrations can be done via emailing or calling Ngatamele Lucas Tsele on lucastsele@gmail.com or 081 789 0516.
Workshop Programme
Day 1: REPRESENTATION IN MEDIA AND COMMUNICATION
This day focuses on the role of media houses, narrative drivers, content creators and media monitoring groups, public communications personnel, governmental communications representatives and other related communications professionals in the representation of Queer narratives in storytelling, broadcasting, advertising and the communications space.
The workshop is designed to equip industry stakeholders with the understanding of queer representation and risks of playing towards stereotypes in terms of LGBTQI+ content. The workshop is envisioned to host senior decision-makers in these respective fields
SPEAKERS
Ditshego Ditshego
Zizo Tshwete
Keval Harie – Director; Gay & Lesbian Memory in Action Trust (Gala)
Ms Nonkqubela Jordan-Dyani – Acting Director-General Department of Comms & Digital Tech
Jay Matlou
Makgano Mamabolo – Actress, Scriptwriter, Producer & Showrunner
Fanney Tsimong – Creative Director; Doti-Producxionz
Athi Petela – Producer, Director
Gaopie Kabe – Cinematographer
Day 2: JUSTICE AND THE LGBTQI+ COMMUNITY
The Access to Justice workshop is designed to consolidate all relevant stakeholders in the access to justice project in serving the LGBTQI+ community.
Furthermore, it is designed to equip civil society representatives and activists/community organizers with the technical know-how in accessing legal structures such as the Equality Court in aiding their work in finding justice for victims and third parties facing discrimination based on their gender, sexuality and gender expression.
This workshop seeks to facilitate cohesive and constructive engagement between government structures that impact the access and quality of access to justice available to the LGBTQI+ community
SPEAKERS
Ditshego Ditshego
Advocate Lethlogonolo Mokgoraoane
Roche Kester – Advocacy Coordinator, Triangle Project
Ronald Lamola – Minister of Justice
Moude Maodi-Swartz – Paralegal Officer for the Love Not Hate Programme, OUT LGBT Well-Being
Day 3: DIVERSITY AND INCLUSION THE IN THE WORKPLACE
This workshop is designed to evaluate the level of inclusion in the private sector and public sector.
In this effort, the workshop is designed to study good practices of inclusion and diversity in terms of LGBTQI+ representation and services available
SPEAKERS
Ditshego Ditshego
Teveshan Erasmus-Kuni – Head of Credit for Commercial Asset Finance: Standard Bank & Director at SA LGBT+ Management Forum
Tshepo Jerry Moseki – Senior SHEQ Coordinator – Fraser Alexander
Lerato Legodi – Brand South Africa
Parks Tau – Gauteng MEC for Economic Development
Roche Kester – Political Advocacy Co-ordinator; Triangle Project
Sylvester Chauke – Founder DNA Brand Architects
Chantelle De Sousa, Attorney
Siya Khumalo – Author
Barba Gaoganediwe – Head Destination Media, Gauteng Tourism Authority
Saki Zamxaka – CEO Gauteng Enterprise Propellor
Mosa Tshabalala – CEO Gauteng Growth Development Agency
Zimkitha Guma – PLUS- Board Member
Francina Ntsimane – Department of Economic Development
Open Market Day: An LGBTIQ+ Market will be open at the Women's Jail
Day 4: QUEERWELL MENTAL HEALTH WORKSHOP
A Mental health conference to address mental health in order to gain more understanding of mental health issues, awareness and mental wellness holistically.
SPEAKERS
Dulcy Rakumakoe
Paddy Sipho Nhlapo
Dr Lerato Galesitoe
Itumeleng Mamabolo
Iyanda Nyoni
Workshop registrations can be done via emailing or calling Ngatamele Lucas Tsele on lucastsele@gmail.com or 081 789 0516.