Cape Town mourns loss of Miss Pride, Adrienne Galagatsi
Adrienne Galagatsi, the reigning Miss Cape Town Pride and a well-known member of the transgender community, has reportedly taken her own life.
Capetonians flooded social media to express their shock and grief at the unexpected loss of one of the queer community's brightest stars.
According to Daily Voice, the body of the 34-year-old Galagatsi (also known as Adrian Heyns), was found hanging in the bedroom of her Eerste River home on Tuesday night.
"It is with great sadness that we learnt of the passing of the reigning Ms Cape Town Pride, Adrienne Galagatsi," said the organisers of the Cape Town Pride Festival in a statement. "Cape Town has lost another force for good. May she rest in Power."
The Knysna-born Galagatsi worked as a Sports Administrator at the University of the Western Cape (UWC) for 15 years and her untimely passing was acknowledged by the institution.
"Adrian was an exceptional sports administrator, exemplary leader and a prominent, dedicated LGBTQIA+ rights activist. She was a much-loved and greatly respected individual whose passing leaves both the sport and the LGBTQI+ community at a loss," said UWC Sport Administration.
"She was a mentor to many student-athletes; she was a devoted dancer and netball ally to countless. Adrian fought so hard for LGBTQIA+ equality when it was neither safe nor popular to do so. She also played a crucial role in securing the rights and dignity the LGBTQIA+ community now enjoys," added UWC.
Heartbroken close friend Cheslin Paris was among those who paid tribute to Galagatsi on Facebook and described meeting her when she was a student in 2006 at UWC. Paris taught Galagatsi dancing and she "continued dancing throughout your studies and had a very successful dance career with numerous accolades, retiring as an undefeated USSA Champion."
Galagatsi later fell in love with the pageant and drag scene in the LGBTIQ community, culminating in her winning the Miss Cape Town Pride crown last year.
"You have earned the respect of the LGBTIQ community through blood, sweat and tears and your humility is what kept you grounded all these years," wrote Paris. "You have also done exceptional work in the community to do your bit for your brothers and sisters. Your legacy will continue to live on for many years."
According to Paris, Galagatsi started living as a transgender woman in recent years. "I know this was not an easy journey but like every aspect of your life, you soldiered on and lived your life unapologetically, determined to reach your goals. I am happy that you left this life being authentically you!"
Galagatsi's death follows the shocking suicide of former Mr Gay South Africa and DA councillor Lance Weyer at the age of 34 in November last year. Their deaths speak to the high rate of mental health challenges that are said to disproportionately affect members of the LGBTQ community.
On the 1st of December, a Facebook post by Galagatsi hinted at possible struggles with depression and loneliness. Alongside the comment, "This is me signing out", she posted a graphic that asks "how do you feel?" above the word "fine" which is, in turn, made up of smaller words such as "lost, unloved, lonely, betrayed, worthless, broken," and "hated".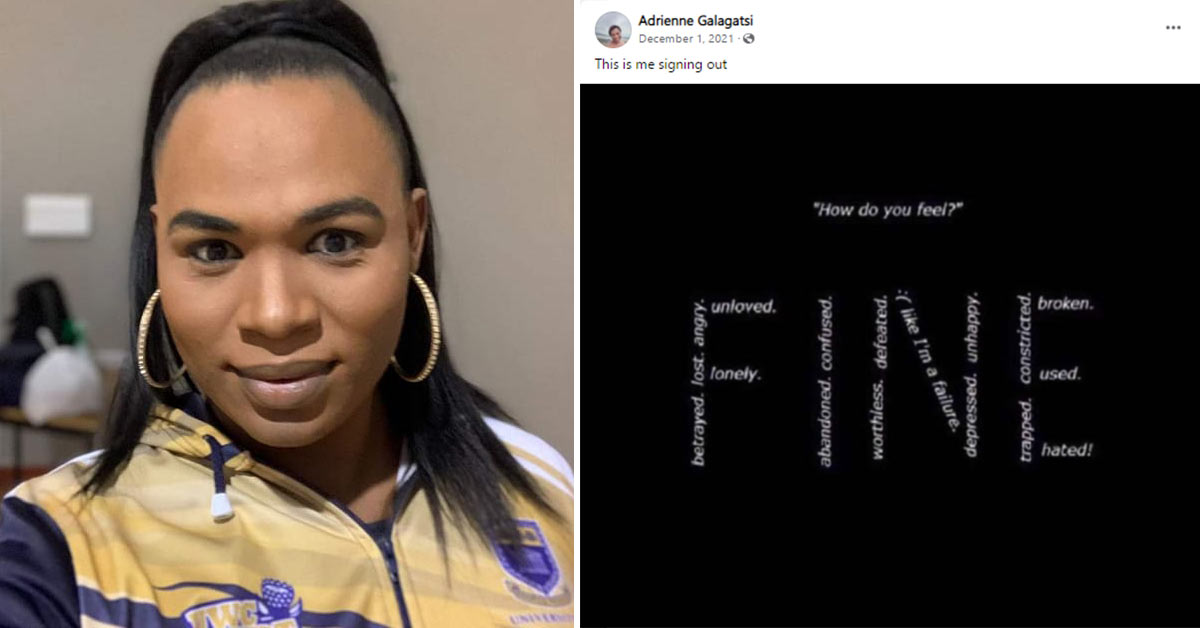 The post is reminiscent of the one shared by Weyer just hours before he committed suicide, which consisted of a black and white photo of himself sitting with his head in his hands surrounded by words such as "anxious, depressed, unlovable" and "broken".
Mamba sends its sincere condolences to Galagatsi's family, friends and colleagues.
If you are experiencing depression and/or considering self-harm, reach out and call Lifeline's 24-hour counselling line on 0861 322 322 or the South African Depression and Anxiety Group's Suicide Crisis Line on 0800 567 567.