Disbelief as former Mr Gay South Africa Lance Weyer dies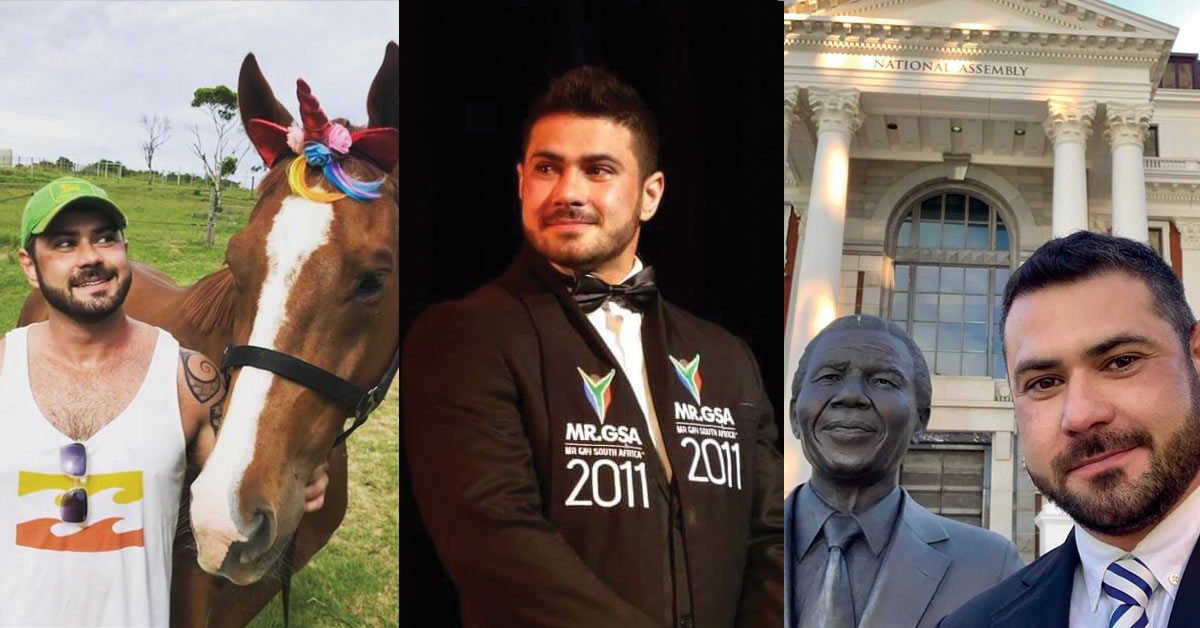 Members of the LGBTQ+ community are in shock after former Mr Gay South Africa and DA councillor Lance Weyer unexpectedly passes away at the age of 34.
On Friday, the news quickly spread across social media, with many sharing their disbelief and grief at the death of such a young, respected and dynamic man. According to Netwerk 24, Weyer shot himself at his parent's home. His last Facebook post on Friday, just hours before his death, indicated that he was in a dark space.
He shared a black and white photo of himself sitting with his head in his hands surrounded by words such as "anxious", "depressed", "unlovable" and "broken". Weyer, from the Eastern Cape, captioned the image: "My Black Friday. A portrait I've been working on for months, titled 'Feelings'."
His death was on the 10th anniversary of his crowning as Mr Gay South Africa in 2011. Weyer's win at the time made national headlines in large part because he was a serving DA councillor in the Buffalo City Metro.
Soon after taking the title, he told MambaOnline that he'd experienced bullying at school for being different and struggled to accept his sexuality for a long time. "I hated myself for being gay for many years and tried my best to hide it. Over time, as I read more about it, I learned to love myself. When I was 19, I started telling friends and when I was 22, I told my parents," he said.
Weyer added that he hoped, in his role as Mr Gay South Africa, to show young people that "all human beings can lead happy and fulfilling lives and are capable of being ethical and moral regardless of their sexual orientation."
Coenie Kukkuk, who was Director of Mr Gay South Africa (as the event was known at the time), revealed in a tribute to Weyer that he had to convince him to participate in the pageant.
"What many did not know is that Lance did not want to parade on a stage and did not want to 'be in the limelight,'" said Kukkuk. "I phoned him the day before the cut-off date [for Mr Gay South Africa] and encountered a very reluctant finalist. What I said, is what encapsulated Lance Weyer for me. I said to him: 'People look up to you, you are a natural leader, you are super-intelligent, good-looking and charming. You are exactly the role model the LGBTQ+ youth needs and the ambassador for the community we are looking for.'"
Weyer went on to become a strong voice for LGBTQ+ equality during his reign, including speaking out against the late Zulu King Goodwill Zwelithini's anti-gay comments, getting publicity tested for HIV and writing op-ed pieces for MambaOnline. In 2012, he came second in the Mr Gay World contest.
He worked as an Infectious Disease Consultant and studied Public Leadership at Harvard University, HIV and AIDS Management at Stellenbosch University and Equestrian Science at Michigan State University; reflecting his deep love for horses and horse-riding.
"The outpouring of grief and tributes to him on social media are a testament to his stature in the community. He was one of the best ambassadors the South African LGBTQ+ community ever had and he leaves a void that I doubt will ever be filled," said Kukkuk.
Eric Butter, President and Founder of Mr Gay World, told MambaOnline that he had fond memories of Weyer: "It is upsetting news to hear of his passing. When I first met Lance back in 2011 when he won the Mr Gay South Africa title in November of that year, I saw a polite, clever, and intelligent man with so much potential. It is a great loss, my deepest condolences to his friends and family."
Louw Breytenbach, the recently-crowned Mr Gay World, commented on Facebook that Weyer's death highlighted the devastating impact of mental health challenges that often go unspoken. "With the recent passing of Lance Weyer I want to first wish peace on his soul, and love and strength in this time to his family. I have been an advocate for mental health for years, and as sad as this is, I hope it again opens dialogue on the issue of mental health and men suffering from depression," said Breytenbach.
A heartbroken friend tellingly wrote on Weyer's timeline: "I never knew that you were suffering like this – but then again, so am I and up until today, I still keep it to myself. I wish I was there for you in your darkest moment."
MambaOnline sends its condolences to Weyer's parents, Carol and Derek, his family and friends. Rest in Power, Lance Weyer.
If you are experiencing depression and/or considering self-harm, reach out and call Lifeline's 24-hour counselling line on 0861 322 322 or the South African Depression and Anxiety Group's Suicide Crisis Line on 0800 567 567.