Steve Hofmeyr claims LGBTQ+ community includes bestiality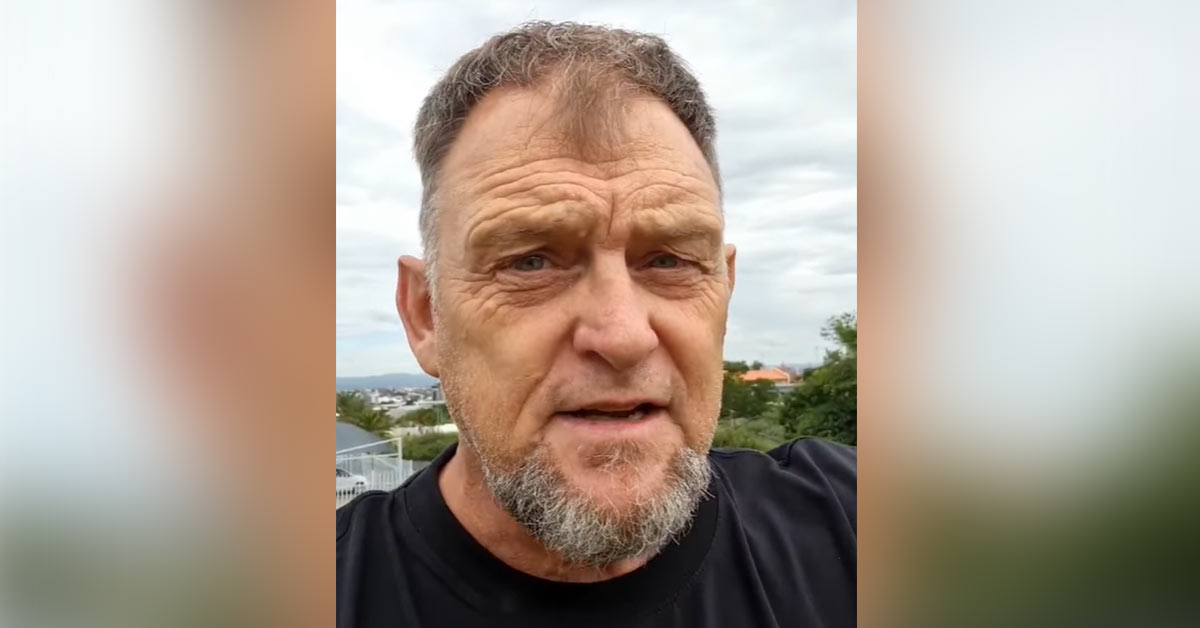 South African singer Steve Hofmeyr has told his fans that the LGBTQ+ acronym includes and promotes the acceptance of bestiality.
The controversial personality, who's previously been dubbed a racist and transphobe by critics, made the appalling claim in a video (see below) posted on Facebook that was recorded while touring Namibia.
Hofmeyr spoke out in the viral clip about Disney's promise to be more inclusive of LGBTQ+ identities after a walkout by its employees for not standing up for equality and allegedly censoring LGBTQ+ content.
He referred to a statement by Karey Burke, President of Disney's General Entertainment Content, in which she expressed support for the company having more LGBTQIA leading characters.
It was claimed by a right-wing blogger that Burke had also asserted that Disney wants a minimum of 50 percent of characters in its content to be from underrepresented groups.
The move by Disney to be more inclusive has sparked a conservative backlash on social media with calls for a boycott of the company.
"Disney's warned the world that it's going to change its characters for children to every LGBTQ+ preference under the sun," commented Hofmeyr about the furore. "While my generation learned to speak to mice, ducks and dogs, our children will be taught how to have sex with mice, ducks and dogs," he said.
"You think it's weird but let me tell you why I'm saying this. Those relationships with animals are part of that '+' at the end of the LGBTQ; that includes those kinds of relationships with animals," he continued. Hofmeyr added: "Disney, don't test the parents…"
The singer's false and dangerous statements – posted on the International Transgender Day of Visibility – parrot long-standing right-wing conspiracy theories that the LGBTQ+ community's ultimate aim is to promote the acceptance of paedophilia and/or bestiality.
Sadly, many of the video's more than 91,000 viewers believed Hofmeyr's lies. Celia Coates, for example, wrote: "Steve Hofmeyr I did not know up to this video what the + stands for. I actually wish now it had not become part of the knowledge in my head. It's despicable."
The + in the LGBTQ+ acronym is intended to reflect the inclusion of the broad diversity of gender identities and sexual orientations. To weaponise this against the LGBTQ+ community only serves to fuel discrimination and hate crimes.
Hofmeyr was called out on Facebook by Namibian LGBTQ+ activist Aedin Mohrmann for spreading bigoted falsehoods. "Shame on you Steve, all Disney is doing is making their stories more realistic by representing people from all backgrounds."
"Gay people exist. Get over it," Mohrmann said. "Bestiality & paedophilia have no place among consenting adults, that's not what people are advocating for at all and connecting those two is not only uneducated but you just put your foot in your mouth big time."
Hofmeyr responded: "I am and have never been homophobic, but when you say 'all backgrounds' you have to stand for all backgrounds and anyone who despises the establishment. I have been hearing for 30 years how few people love me. But hear my song, we few people will help Disney 'see their ass'. Literally."
In 2019, Hofmeyr lashed out at South African-born actress Charlize Theron's decision to accept her daughter's transgender identity.
Update: While Hofmeyr's video has since been deleted or removed, he appeared to stand by his comments in a subsequent text post (while also mocking Mohrmann, who identifies as non-binary). Hofmeyr wrote:
"One person, someone who probably doesn't have children, complains that my opinion of LGBTQ+ infiltration at Disney is wrong. But he/she/it/sir/zir also doesn't help me right. To me, his non-binary status is actually irrelevant. But that it includes pedophiles and 'animal lovers' gives him ZERO authority over my children. I don't know why he doesn't know it. Millions of parents worldwide already agree. Don't 'groom' our children for your thrills. Goodbye, Disney."
Below is a clip of the video that was posted on Twitter.
I have watched this rant on Disney by Steve Hofmeyr a few times to make sure I am actually hearing what he is saying.
Surely this is hate speech directed at the LGBTQI+ community? pic.twitter.com/oT6mfuN3bZ

— Bianca van Wyk (@BiancavanWyk16) April 2, 2022