LGBTQ elders and the importance of learning old tricks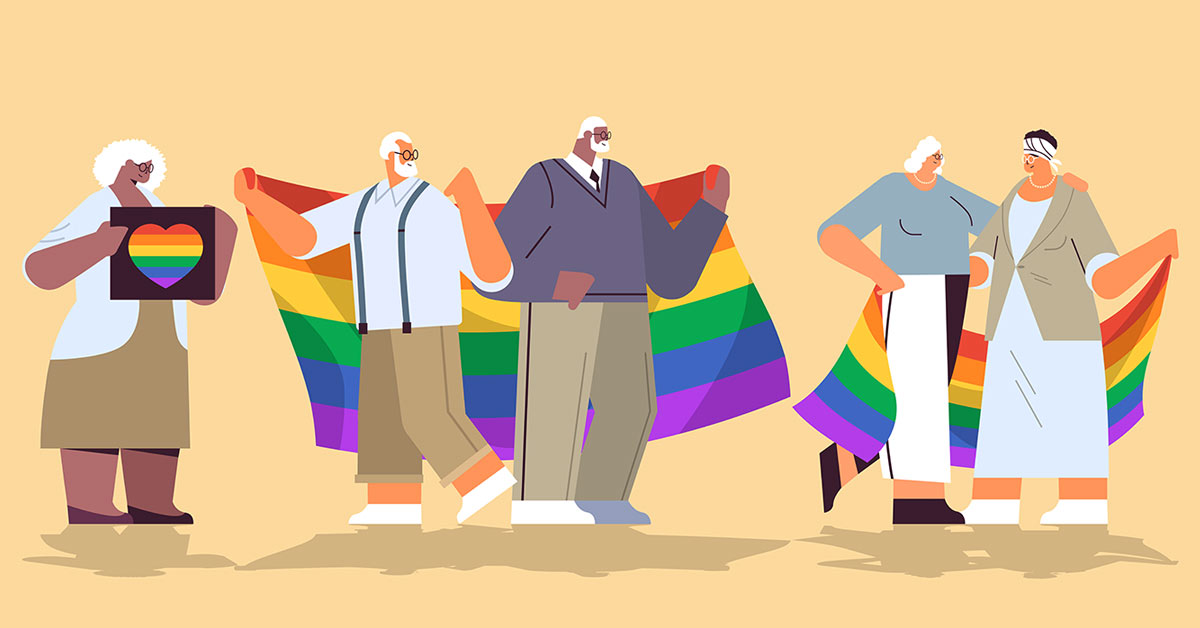 As a community, do we do enough to learn from and take care of the LGBTQ elders that came before us?
When South Africa's Constitution was released with the equality clause enshrined in its Bill of Rights, it was the result of years of dedicated work by activists, as was also the case when sex between two men was finally decriminalised in 1998.
Same-sex marital unions, same-sex adoption, and all of the more than 30 laws that have since been adapted to make fairness, protection and equality constitutional rights for all were the result of consistent pressure from an earlier generation of queer people.
Despite decades spent risking their personal safety to be a voice for the voiceless, many older members of the LGBTQIA+ community become invisible to the younger generation in old age.
Of the 3 million LGBTQ adults older than 50 living in the USA, more than half feel lonely, according to SAGE, an American LGBTQ elder advocacy organisation. This is because LGBTQ adults in the US are up to four times less likely to be parents than their straight peers and are twice as likely to live alone.
Says CEO of SAGE, Michael Adams, "This is in the context of a country where adult children and spouses and partners are the primary sources of care and support for older people later in life."
While similar statistics regarding the lives of LGBTQ elders in South Africa are hard to come by – one article speaks of a "complete dearth of research" on the subject – it is fair to assume that there are a myriad of LGBTQIA+ people older than 50 in the country.
Why is it important that this demographic of the local queer community is not only acknowledged for their contribution to the struggle for LGBTQ rights, but also not forgotten in the modern society that they helped to create?
To not be erased again
Many older people today might contend that there simply weren't as many queer people around when they were young, while, in fact, members of the LGBTQ community have historically been erased and left out of the conversation.
Aside from having to hide their sexuality to avoid legal repercussions, the scorn of their families, the loss of their children, or even violence and death, queer people have also been left out of the history books, with many LGBTQ elders today having grown up without ever having another queer person to look up to.
Fast forward, and later generations are able to enjoy the fruits of the labour of those LGBTQ people who did dare to publicly say they were trans, gay or lesbian, and fought for the right to be out and proud.
The chief difference between today's generation and the ones that came before it is that young LGBTQIA+ people have a great many elder and contemporary queers to look up to, consult and honour.
Speaking to MambaOnline on the occasion of their 50th birthday, lesbian activist and filmmaker Dr Bev Ditsie said:
"I had seen older queer people but they looked like they were struggling. When they were gay men, they looked lonely. When they were women, they looked like they'd had a hard life. There's a part of me that didn't aspire to get older because I didn't see any [older] representation of myself that was thriving, that was happy, that looked like there was joy in being alive, that looked well. Emotionally, psychologically, physically."
Themself today an elder in the LGBTQI community, Ditsie is a shining example of someone who has taken the struggle to the streets (and even to the upper echelons of global power – Ditsie was, notably, the first black lesbian to address the United Nations about LGBTQ rights) and still fosters intergenerational dialogue about matters surrounding gender and sexuality today.
National Honour our LGBTQ Elders Day is celebrated in the US on 16 May. According to the event's website, the day is celebrated to "honour and thank those who came before us for creating the path and leading the way".
Although the day is not celebrated in South Africa, we'd do well by taking a page from the books of those who came before us. In light of the violence and discrimination still experienced by many queer people in our country, and considering the regression and erosion of hard-fought rights elsewhere in the world, there has perhaps never been a better time to learn from our elders.
Intergenerational dialogue reminds us of the past, but also helps us to look ahead, and set plans in motion that guarantee future generations even greater freedom than we can imagine today.