ALL THE JOBURG PRIDE INFO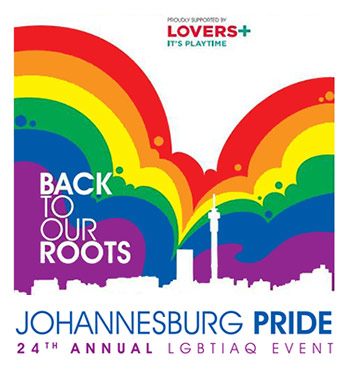 More details about this Saturday's Johannesburg Pride in Sandton, which will include a march, have been released by the organisers.
The event, which was set to take place on September 28, was controversially postponed at the last minute after the Johannesburg Pride Planning Committee said that the original Newtown inner city location was unsafe.
Johannesburg Pride will now take place at the George Lea Sandton Sports Club in Sandton on Saturday 26 October.
"This year's theme 'Going back to our Roots' is both celebratory in nature but equally an avenue to raise the challenges still faced within the LGBTIAQ community. Challenges firmly supported through the diamond sponsorship of Lovers+," commented Johannesburg Pride's Kaye Ally.
THE MARCH
Participants are requested to gather at 9.30 am in Sutherland Road, off William Nichol Drive in Sandton, which is the main parking area and also where the march will kick off at 10.00am.
The procession will then move along William Nichol Drive, into Sandton Drive until it concludes at the Sports Club at around 11am, after which the day's festivities will commence.
The committee has urged participants to use placards, t-shirts and banners to draw attention to issues affecting the LGBT community, including the "scourges of homophobia and transphobia, hate crimes and 'corrective' rape".
THE POST-MARCH EVENT
The day's line-up at the park includes a host of artists; from DJs, singers and dancers to female impersonators strutting their stuff. Due to the date change, Lira, the previously announced headline act will not perform on the day.
Performers will include Catherine Grenfell, Jamalie, Solly P, Lizz, Miss Le Coq and Stuart Hillary, among many others.
Food and beverages will be on sale throughout the day. No alcohol will be permitted to be brought in or out the gate.
While general entry the event is free, VIP tickets are available at webtickets.co.za for between R150 and R250. These include benefits such as access the Pride Garden and food hall, spirit bar, shooter bar, media and celebrity hangout – as well as secure VIP parking.
The committee explained that participants can walk back to the march starting point/main parking area (about a 5 minute walk) or take Tuk Tuks which will be available at a fee. (Disabled parking can be arranged with the organisers on request).