2ND MPUMALANGA GAY PRIDE ANNOUNCED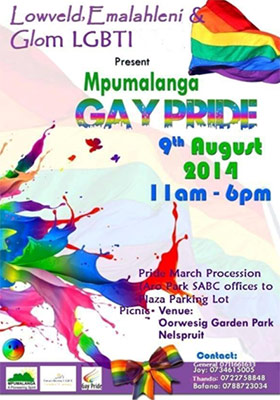 The province of Mpumalanga, which has never before held a Pride march, will make history this year by hosting not just one LGBTI Pride event but two.
On Tuesday we reported that the first ever Mpumalanga Gay Pride March will take place on Saturday 6 September in the town of Ermelo.
We've since been contacted by organisers of another Pride event who will in fact hold their march first, but in the provincial capital of Nelspruit (Mbombela) on Saturday 9 August.
According to Nelspruit organiser Joy Kunene, the two Prides have been planned independently and have no connection with each other. She preferred not to comment on the Ermelo event.
Kunene said that her march, under the theme of "Moving Forward, Proud, Strong & United," is backed by numerous local LGBTI groups. These include Lowveld LGBTI Group Nelspruit; Gays, Lesbians of Mpumalanga (GLOM) Ermelo; Gays, Lesbians of Sakhele (GLOS) Standerton; and Emalahleni LGBTI Group.
Participants will gather at the SABC office in Alroe Park, Nelspruit at 10am. The march starts at 11am and proceeds to the Nelspruit Plaza parking lot. There, marchers will be transported to Oorwesig Garden Park for a post-parade picnic.
"There will be dancers, music, singers, poetry, a surprise guest and the opportunity to meet interesting people. Food and alcohol beverages will be sold. All I can say is it's going to be a blast," said Kunene.
She commented that, "Gay Pride will give us an opportunity as the LGBTI community of all districts in Mpumalanga province to be in one space."
She explained that the purpose of the march is to take a "stance against discrimination and violence towards the LGBTI community, promote our self-affirmation, dignity, equality rights, increase our visibility as a social group, build community, and celebrate sexual diversity and gender variance."
For more information about Nelspruit Mpumalanga Pride, e-mail Kunene on rejoyce1@live.co.za or call her on 073 461 5005.