Lesbian woman raped – two years after hate crime murder of her cousin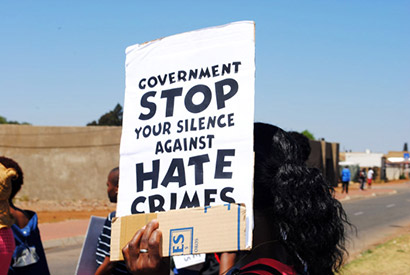 Hate has devastated a Ventersdorp family. Still grappling with the rape and murder of her cousin, a 22-year-old woman has been raped at gunpoint, also because she's a lesbian.
The young woman was attacked on the afternoon of 17 August while chatting and walking with a friend thorough a graveyard in Toevlug, Ventersdorp.
A man holding a gun approached the women and told the friend to run away. He then allegedly forced the victim to his house at gunpoint, shouting: "You bitch; I have been looking for you."
The woman told the Potchefstroom Herald: "When he took me to his room, he locked the door, slapped me across the face, told me to undress and raped and sodomised me for two hours. I was so scared he was going to shoot me."
She said that the man also threatened to rape two of her lesbian friends and her 18-year-old sister.
After she managed to escape, she was taken to hospital and reported her attack to the police. A 38-year-old-man was arrested and appeared in the Ventersdorp Magistrates' Court this week.
The woman has no doubt that he targeted her because of her sexuality. "I truly believe that I was raped because I'm a lesbian," she told Mambaonline.
She revealed that she knew her attacker and that he had been stalking her for some time. "The police don't do anything about it. I phoned and told them that I am threatened and they never came."
The woman says she doesn't feel safe in her community. "Even if I go to the shop, which is two minutes away; I don't know who's watching or who wants to hurt me."
She expressed some relief that her alleged rapist had been denied bail on Thursday. "If he got bail he would have come after me," she said.
To add to her trauma, the attack took place almost two years to the day of the horror hate crime murder of her 24-year-old lesbian cousin, Disebo Gift Makau, in the same town.
Makau's half naked body was discovered with her hands tied behind her back and a running hose pipe shoved down her throat. She had been raped and strangled with a wire. Stoffel Pule Motlhokwane received a double life sentence for the rape and murder, and 15 years for robbery.
"I am angry. I am really angry. I keep dreaming about my cousin. She keeps appearing to me and crying. I have support from my family and community but at night I can hardly sleep," said the woman, who expressed concern that her assailant's family would come after her.
The North West province was in the news last month for another attack against the LGBT community. A 17-year-old gay school pupil, Lesley Makousa, was strangled to death with a shoelace in the Potchefstroom township of Promosa.
The suspect in Makousa's case, along with the woman's alleged rapist, are both set to appear in court again on 16 September.