Here's SA's first rugby club to officially say "no" to homophobia in rugby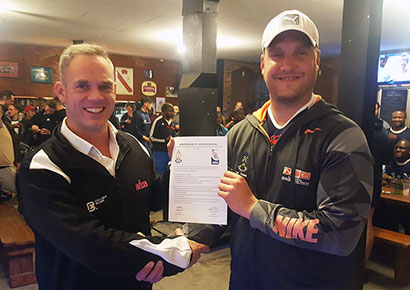 Digger's Rugby Club (DRC), one of the oldest rugby clubs in South Africa, has signed an agreement to take a stand against homophobia in the sport– making it the first rugby club in South Africa to take such a pledge.
The Randburg club joined the Exclusive Books Jozi Cats (JCRC), South Africa's first gay and inclusive competitive rugby club, in signing the groundbreaking MOU.
The document is based on the historic MOU signed between World Rugby and International Gay Rugby (IGR) in 2015. It recognises and respects "the right of any player, official and spectator to be involved with rugby without the discrimination on the grounds of sexual orientation or identification".
The MOU also asserts the "common goal of inclusion and the elimination of homophobia in rugby" and "the promotion of Digger's Rugby Club as a community-centered safe space".
In addition, DRC and JCRC agreed to develop a positive and mutually-beneficial relationship based on a shared set of values, work with the Golden Lions Rugby Union and the South African Rugby Union to improve tolerance and acceptance of LGBTQI players at all levels within rugby and support the promotion and development of the JCRC mandates of creating safe spaces and developing gay and inclusive rugby in South Africa.
Homophobia has no place in rugby
"Digger's has a nearly 125-year tradition of going against the grain and standing up for the underdog which is what led to our formation all those years ago. It's part of our DNA," said Digger's Rugby Club Chairman, Riaan Matthys. "At Digger's everyone, regardless of their sexual orientation is not only welcome – but safe as well. And this is something we are extremely proud of."
This alignment of values while promoting a safe and inclusive space for all who enjoy the game of rugby was something that resonated with the Jozi Cats and led to the club calling Digger's the new home of Jozi Cats in early 2017.
"Everyone at Digger's have gone out of their way to make us feel at home and their passion and commitment to help us provide a truly safe and harassment-free environment for our players, fans and spectators," commented Jozi Cats Chairman, Chris Verrijdt.
"They really need to be commended on being such a brave organisation for taking a standing with us to blow the whistle on homophobia in sport and help make a lasting change to what is and what isn't acceptable behaviour and language, both on and off the field."
Verrijdt said the involvement of the Digger's coaching and management staff has been integral to the growing confidence and skill of its players ahead of the Jozi Cats' local rugby debut at the Zando Tshwane 10's this weekend.
In addition, the Jozi Cats will be playing in the Digger's annual 7's tournament on Saturday 16th September 2017, before heading to Babylon – The Club in Illovo to celebrate their second birthday. All members of the public are invited to attend all events to support the boys in pink.
In countries like Australia, New Zealand and the UK there are active programmes, led by or with the participation of the rugby sporting authorities, that deal with homophobia in sport. In South Africa, these are sorely lacking.
"We hope that every club and union in South Africa takes a page from Digger's book to say that homophobia has no place in rugby; but homosexuals do!" said Verrijdt.