Grindr launches HIV testing reminder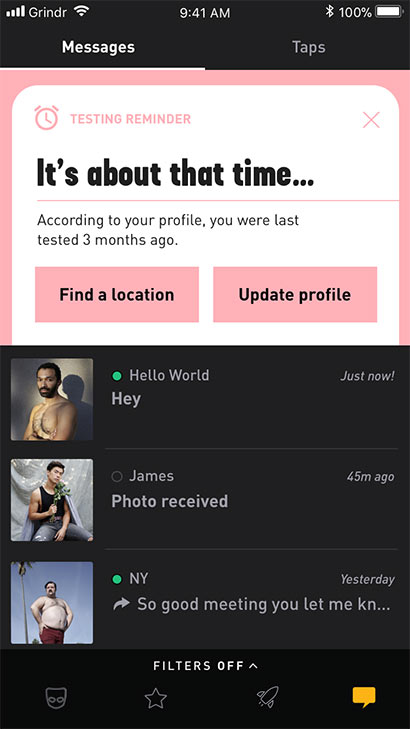 Dating apps have often been accused of facilitating risky sex, but Grindr has just launched a function to remind users to get tested for HIV.
Grindr users are now able to opt-in to discreetly receive automatic reminders to get tested for HIV every three to six months. The suggested time frames are based on recommendations by the CDC for some sexually active gay and bisexual men.
The testing reminder feature was developed with guidance from Building Healthy Online Communities, a consortium of public health leaders and gay dating website and app owners who are working to support HIV and STI prevention online.
"Grindr's making it as easy to get tested as to find a date," said Dan Wohlfeiler, director of Building Healthy Online Communities. "Getting tested regularly for STDs, including HIV is one of the most important things a guy can do for his own health, and his partner's."
About a year ago, Grindr gave users the ability to include their HIV status and last test date fields in profiles to foster an open dialogue about sexual health.
"Grindr has always been committed to its users and the issues affecting the LGBTQ community at large," said Jack Harrison-Quintana, Director of Grindr for Equality. "We felt this update would be a great way to make an immediate impact within the community on a broad scale and encourage more regular HIV testing."
In addition, the company announced free advertising for HIV testing sites in the US, and that it has partnered with CenterLink, an organisation that connects more than 200 LGBTQ community centers throughout the US, to proactively develop free ads for its HIV testing services.
The new reminder feature can be activated within the Edit Profile screen accessible within the user profile page. Once on the Edit Profile screen, the Sexual Health section provides fields for a user to enter their HIV Status, Last Tested Date, and Testing Reminder preferences. By default Testing Reminders are set to Off but users can choose to receive reminders after three months or six months after their last test date.
When users receive the reminder in their Grindr inbox, they are given an option to find a HIV testing facility close to them and also to update their profile. It is not clear to what extent these features are currently limited to the US.