Are you the next Miss Drag South Africa 2018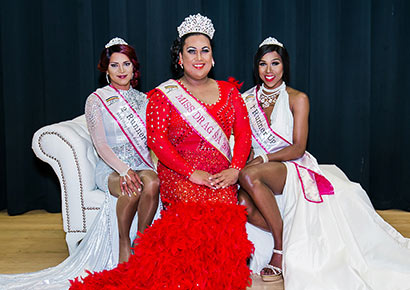 Think you have what it takes? Miss Drag South Africa 2018 is here and entries are open!
Pageant director Enigma von Hamburg made the announcement that the 2018 Miss Drag South Africa Pageant will take place in Port Elizabeth, Eastern Cape on the 29th of September 2018.
Miss Drag South Africa, is a national pageant where beautiful and intelligent hopefuls from across the nation vie for this prestigious title. Enigma says that, "the brand celebrates diversity and thus acts as an inclusive pageant to drag queens and trans bodies."
She continues: "This platform is much more than just a beauty contest, it highlights the aim of 'Drag for a Purpose' to inspire ordinary people that carry out extraordinary things to advocate the advancement of LGBTQA+ rights, drag culture, serve as agents for change and uplift their communities by serving as positive role models.
The pageant is also a vehicle to educate our communities to respect and show tolerance towards people from diverse sexual orientation, cultural, religious- and racial backgrounds."
At the 2017 edition, Zilin Ayoki, a primary school teacher from Mitchell's Plain in the Western Cape, competed against 11 fierce finalists from across the country to be crowned Miss Drag South Africa.
Zilin walked away with a grand prize package valued at R50 000. The prize package included a cash prize, travelling allowance, a designer dress, make-up hamper, hair salon vouchers, spa products, professional photoshoot, educational training voucher and much more.
After her crowning she continued with her 'Drag For A Purpose' initiatives in the hopes to enhance the lives of those who are most in need.
Zilin has travelled a bit and wants to do so much more this year. "I definitely want to visit as many places in our country as I can and spread a message of hope and love. I would want to look back after completing my reign and be content with what I have achieved," says Zilin.
Miss Drag South Africa 2017 was a raging success last year with phenomenal support across the board, however, Enigma hopes that more people will get involved, especially in terms of sponsorships. "I have the dream that one day, the pageant can also be on the level of Miss South-Africa!"
Entries are officially open and closes 15 May 2018. Should you wish to enter Miss Drag South Africa 2018, you can download it here: www.evhempire.co.za.
Provincial title holders of 2017 automatically qualify as semi-finalists but will still need to complete a form and send it to missdragsouthafrica@evhempire.co.za on or before 15 May 2018.