SWAZILAND GOVERNMENT REACHES OUT TO GAYS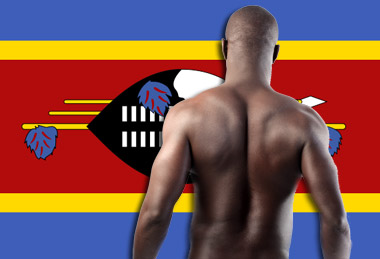 If caught, any Swazi engaged in a same-sex relationship will be arrested and jailed. But public health officials have used Valentine's Day to urge gays to trust promises of confidentiality and test for HIV.
"February is known as the month of love, when couples express their love for each other through gifts, especially on Valentine's Day. The purpose of our new campaign, called 'The Love Test', is to encourage couples to undergo HIV testing," said Simon Zwane, Deputy Director of Health.
He acknowledged that in Swazi society gay sex is taboo but said the health ministry was actively extending its reach to include gay couples in HIV counselling and testing.
"Couples need to be consistently aware of their HIV status. This will result in them making joint decisions on risk reduction in their relationships," said Zwane.
Swaziland's HIV prevalence has remained the world's highest for years, with about a quarter of all adults living with HIV.
Several NGOs, including the Alliance of Mayors' Initiative on Coordinated Action against AIDS at the Local Level (AMICAALL) and the family planning company, PSI International, are partners in the nationwide campaign, the first health initiative in the small impoverished country to acknowledge the existence of gays and welcome them to make use of HIV testing and counselling services.
"As long as I can have my friends and do what I want, I don't mind keeping my secret…"
"Just admitting that there are gays in Swaziland is a big step for a government ministry," said Alicia Dlamini, a HIV testing counsellor in Manzini, the country's industrial hub.
Three months ago the Minister of Justice and Constitutional Affairs, Magwagwa Gamedze, a traditional chief appointed by King Mswati, dismissed a recommendation by a United Nations working group on human rights that Swaziland enact a law to protect gay members of society.
Gamedze said so few, if any, gays live in Swaziland that the bother of drafting such a law was not worth the effort.
"It was difficult for government to formulate a policy on homosexuals or enact a law to recognise them because they actually formed a minority if ever they existed. Their numbers do not permit us to start processing a policy," the justice minister said.
Very little information is available on same-sex couples in Swaziland and no gay organisations are involved in "The Love Test" campaign. The Gays and Lesbians Association of Swaziland (GALESWA), formed in the 1990s, has only one known member.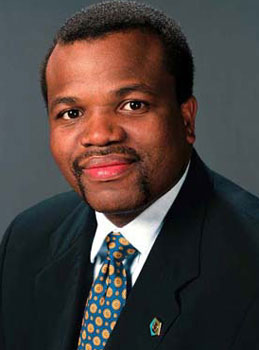 Swaziland is ruled by King Mswati III,
one of the world's last absolute monarchs.

The constitution does not safeguard the rights of homosexuals, and sodomy laws dating from the early 20th century are still on the books. King Mswati has reportedly called same-sex relationships "satanic", and Prime Minister Barnabas Dlamini has called homosexuality "an abnormality and a sickness".
Human rights groups regularly criticise Swaziland for its anti-gay laws, and note that discrimination against gays is routine and acceptable in the conservative society of this small country.
"AIDS is not a 'gay disease' in Swaziland. It is almost entirely spread by heterosexual relationships… No one blames gays for AIDS in Swaziland, they just blame gays for being alive and being gay, so it is hard for a gay person to risk exposure," Alicia Dlamini pointed out.
Dlamini's fellow HIV counsellor, Thamie Shongwe, feels the health ministry's Valentine's campaign to test couples will fail to attract same-sex couples.
Lucky Gama (not his actual name), 24, a gay auto mechanic, agreed. "A lot of gays are afraid that if they go to get tested they will be found out and disgraced. Maybe the police will be called to arrest you, because this is Swaziland."
There is a high level of mistrust. "I have heard of my gay friends say they are in fear because there is a test they give you without you knowing it that shows if you are gay," Gama said.
"I did get an HIV test but it was at school when all the students volunteered to take a test, so the testers were not on the lookout for gays."
SABELO'S STORY: "WE MAY BE OPPRESSED BUT WE ARE GOING TO SURVIVE"
Sabelo Simelane (not his real name), 21, has an easy smile, a quick laugh and gestures animatedly when he talks. If he feels he can take you into his confidence, he is forthright about his life as someone whose sexual preference makes him an outlaw and a social outcast in his country, Swaziland, where same-sex partnerships are a crime.
"As long as I can have my friends and do what I want, I don't mind keeping my secret. If I want to live out in the open I can move to South Africa, which is only an hour away. But my mother needs me, not just financially because I support her but she likes me keeping her company. My father lives with his second wife. I may be a man now but he still beats me when he sees me, out of habit I guess. He doesn't know who I love, no one does except Paul, my special friend.
I see on the Internet that… in America [people] blamed gays [for] bringing AIDS there, but in Swaziland nobody blames gays because government refuses to believe there are gay Swazis. Lots of my friends sleep with women – I do – but my heart isn't in it. My heart is with Paul. He is like Paul in the Bible. He had his Damascus moment when he had to choose which path to take. He saw me on this path and he joined me, and we've been in love ever since.
I got HIV tested because I am responsible. They don't ask if you are gay and I don't tell – why would anyone do that and get discriminated against? People think they have a right to insult and even throw stones at gay people. We keep quiet. We are very knowledgeable about HIV – all my friends know to get tested and wear condoms. We may be oppressed but we are going to survive."