ADVERTORIAL: ANTI-AGEING LASER TREATMENT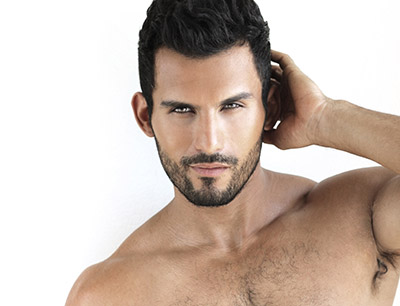 I absolutely love getting into a lift (or any intimate confined space) when a great-smelling, well dressed metro-male is in there! Well, it's not my biggest fantasy, just something to brighten my day… a lot. He doesn't have to be drop-dead gorgeous or sport a six-pack, but a smooth, well-cared for skin will definitely call for a second glance.
From our mid-twenties onwards our skin slowly starts losing its youthful appearance as less collagen is produced and the elastin that enables skin to snap back into place doesn't have quite as much 'snap' anymore. Dead skin cells do not shed as quickly and cell turnover slows down, but the ageing effect only becomes visible many years later. Thus don't start worrying unless you are 'of that more mature age'; then you should be taking note.
The trend these days, however, is to start with rejuvenating treatment a bit sooner to ensure that skin remains younger- looking for so much longer. Although prevention is always better than cure, you can still improve your skin's appearance quite dramatically even at an older age without resorting to surgery, and there's nowhere better than at a Skin Renewal clinic. Rejuvenation and skin care is their speciality.
3D Skin Rejuvenation™
Skin Renewal's 3D Skin Rejuvenation therapy has various clinical applications that are used in conjunction with other procedures to treat all three layers of skin. This will result in great looking skin with immediate visible results. As your skin is stimulated to continue its own rejuvenation, it will keep on improving with each subsequent treatment.
The three clinical applications include:
Titan™ Skin Tightening
The natural ageing process and sun damage cause collagen fibres to stretch and loosen, resulting in less elastic skin that eventually droops. Titan treatment is a combination of light and radiofrequency energy that is used to heat the deeper layers of the skin while protecting the skin surface. The heating activates fibroblasts, causing new collagen formation and existing collagen to tighten over time, resulting in a firmer and tighter skin.
Most commonly treated are the jowls, cheeks, neck and eye area.
Laser Genesis™
Laser Genesis skin therapy has been scientifically proven to produce new collagen and uses non-invasive laser technology to improve those skin conditions usually associated with ageing and sun damage. It is a very good option to consider for redness and rosacea.
For more difficult skin problems like deep wrinkles, acne and superficial scarring the settings on the Laser Genesis procedure can be changed to improve the results; it can even be used to plump up the lips with no pain or downtime. It can focus on a small specific problem (nose, mouth, pigmentation marks) or a larger, more general area (e.g. stretch marks on the tummy) and can be combined with carboxytherapy and/or skin needling.
IPL Photo Genesis™
Photo rejuvenation or IPL Photo Genesis is a gentle treatment designed to improve ageing and sun damaged skin, such as sun blemishes and fine lines. It restores a more youthful appearance and can be used on any sun damaged area of the body, on freckles, blotchy skin or discoloured patches; even redness and rosacea are good candidates for this treatment. It selectively heats the red or brown spots to destroy the pigmentation and shrinks the dilated capillaries to reduce the red appearance of rosacea.
These procedures are then combined with microdermabrasion, glycolic peels, Transdermal Mesotherapy™ and radiofrequency. An all-in-one treatment will offer superior results.
The various 3D Rejuvenation treatments will be applied according to your needs and will stimulate skin to renew itself by increasing the amount of collagen in the dermis. This shrinks the pores and tightens sagging skin as well as re-texturing a dull and sallow appearance.
Keeping your skin firm and taught with collagen will help prevent sagging over time. A tighter skin will support facial structures and help prevent those jowly cheeks from marring your appearance. If you start in your thirties or forties, it may actually slow down or prevent the skin from breaking down and appearing wrinkled and sagging later on in life.
In fact, age is not the deciding criterion, because the 3D Rejuvenation package will have the same benefits for anybody at any age where rejuvenation is desired.