POLICE ARREST MOSCOW PRIDE ACTIVISTS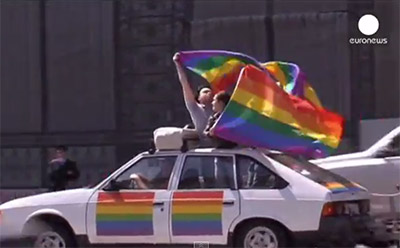 Efforts to hold gay Pride events in Moscow have once again been stymied by the authorities, reports the Moscow Times.
On Saturday, around 30 activists took part in two Pride rallies. One was held in front of the Moscow mayor's office and another in Gorky Park. A car with two people waving rainbow flag from its sun roof also drove through the streets.
Some female activists painted their faces with beards, showing support for Conchita Wurst, the Austrian drag queen who recently won the 2014 Eurovision Song Contest, causing outrage in Russia.
At least six participants in the rallies were arrested by police and later released, while eggs were thrown at activists at the park.
Moscow authorities have refused to allow gay Pride events from taking place in the city for nine years in a row. Despite this, activists have repeatedly defied the bans, braving arrest and attacks by anti-gay thugs.
According to the Moscow Times, there was a considerable drop in the number of participants on Saturday compared to previous years.
Organiser Igor Yasin told the newspaper that despite the small scale of the events, "it is an important step because we did it even though there were complaints from the police."
Moscow has ignored a 2010 ruling by the European Court of Human Rights that the Pride bans are discriminatory and a violation of the right to free assembly.
In June last year, President Putin signed a federal law banning gay "propaganda" to "protect" children, which has been used to restrict press freedom and music concerts, to ban gay Pride events and protests and has led to an increase in violence and discrimination against LGBT people.