VIRAL SOLO PORN VIDEO BODYBUILDER SAYS HE'S NOT GAY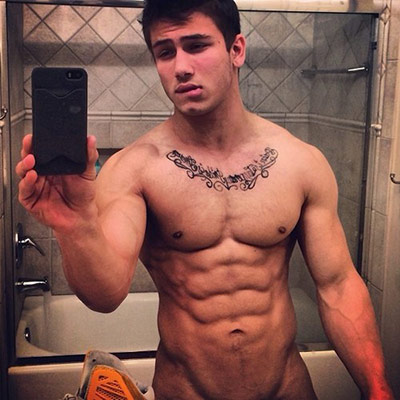 An "embarrassed" social media bodybuilding star whose "leaked" solo porn videos have gone viral has insisted that he's not gay and says he regrets making them.
Michael Hoffman, who's become known for posting sexy selfies and flexing videos, recently surprised his fans by appearing in at least two x-rated self-filmed videos in which he masturbates on camera.
They became an instant viral sensation, being shared widely on social media. (Update: Click here, and here for some examples. Warning: NSFW)
Now, a glum-faced Michael has posted a new video in which reveals that he made and sold the videos for more than $10,000 because he "needed the money." He implies that they were for private use but were then posted online by the buyer or buyers.
Michael, who's undoubtedly found a measure of fame thanks to his gay male fans, also feels it important to clear up any confusion about his sexuality.
"I'm not gay," he says rather desperately. "Those videos I can understand make me look that way – and I respect gay people completely – but I'm not gay, I'm straight."
Michael also claims that he was naive about making and selling the videos and didn't expect them to be posted online and explode the way they did.
"It's humiliating, it's embarrassing," he says. "Can't really walk around anywhere without being looked at like weird or people talking about it. But it is what it is."
Michael goes on to say that he'll continue to post flexing videos on YouTube and plans to get into acting.
"You guys can think what you want, I don't care any-more. I really don't. I can't do anything about it. They're online. They're leaked. Their always gonna be there," he concludes.
We don't know if we buy Michael's repentant explanation. Is this an instance of a naive narcissist being exploited on social media, or simply a means to kick off yet another leaked-sex-tape-showbiz-career? Either way, we all get an eyeful…