Meet the man cycling across Africa for LGBT rights
Lawyer, social justice advocate, choreographer, dancer, director and musician – and now long-haul cyclist and fund-raiser. American Nate Freeman has just begun a remarkable journey – cycling 12,000 kilometres from Cairo to Cape Town to raise awareness and support for LGBT rights in Africa.
His ambitious bicycle ride is part of the Out in Africa Ride project, a larger initiative to promote LGBT rights created by a group of former law clerks from South Africa's Constitutional Court.
The aim is to identify and fund non-profit organisations across the continent that are fighting discrimination and advocating for the protection of LGBT people.
Freeman is currently riding through Egypt and will, over four months, wind his way down to the bottom of the continent.
Freeman said he had the idea for the project after coming to South Africa to work for Constitutional Court Justice Edwin Cameron as a foreign law researcher. He was inspired by Cameron's writing and by his example as an openly gay and HIV-positive public figure.
Freeman's route will take him through ten countries at a pace of about 120 kilometres per day. He's riding with a group of over thirty international cyclists who are racing either as a personal challenge or for various other causes.
Freeman is the only rider in the group riding for the Out in Africa Ride organisation. The cyclists will camp every night along the way and will take one or two rest days per week.
Freeman named his bicycle after the late iconic South African apartheid and LGBT freedom fighter and co-founder of Johannesburg Pride, Simon Nkoli.
"Simon is an inspiration to me because he represents and relates two different types of oppression, one with which I am personally familiar and one with which I am not," explained Freeman on his blog.
He revealed that he embarked on the project because, "I wanted to stand up for something I believe in: namely, that LGBT rights are human rights and that a fundamental component of human dignity is for individuals to be free to express their sexuality and gender identity in a way that is personally fulfilling.
"While in South Africa, I have been deeply moved by stories of corrective rape, of harassment and imprisonment, and of the murder of activists like David Kato in Uganda, who have been killed for advocating their beliefs."
Freeman admitted that the continental cycle "terrifies" him, not only because of the physical and practical challenges involved, but also because he's wondered "whether it is appropriate for me, a white foreigner, to raise awareness about the state of LGBT rights in Africa."
Noting that "people with good intentions can do more harm than good when they do not fully understand the complex cultural and political background of a foreign environment," he said that he's also found that foreigners "are sometimes granted access to spaces that are difficult for local residents to inhabit, perhaps because people are more forgiving of mistakes when they are committed by an outsider."
He added that, "in the case of LGBT rights in Africa, foreigners are far less likely to be persecuted for their sexual orientation or gender identity."
Freeman's route will traverse the eastern part of the continent before heading west to Windhoek and then south to Cape Town, where Freeman is expected to arrive on 9 May.
Justice Cameron told Mambaonline that he fully supports Freeman's efforts. "He has a passion for Africa and our issues – including equality and justice for all LGBTI people and MSMs on our continent," said Cameron, adding, "We owe him our admiration, joy and heartfelt support."
Out in Africa Ride has already identified two non-profits that it will target for its fundraising. The Human Rights Awareness and Promotion Forum (HRAPF) is a Kampala-based non-profit directed by Adrian Jjuuko that has been instrumental in the successful campaign to overturn Uganda's harsh Anti-Homosexuality Act.
The second group is the Gay and Lesbian Network (GLN), an organisation headed by Anthony Waldhausen based in Pietermaritzburg, South Africa. It offers a helpline service to LGBTI people and engages in outreach with the surrounding community to facilitate awareness and sensitivity to LGBTI issues.
"We're honoured and privileged to have been chosen as a partner for this very important project and the funds raised would support our vision to create a non-discriminatory, supportive and accepting society in which members of all communities are uplifted and developed," said Waldhausen.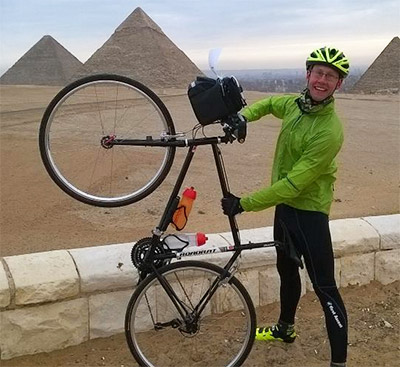 Having made a personal donation of $10 to the cause, he urged all South Africans to donate that amount or better it.
Out in Africa Ride aims to identify additional organisations as Freeman's ride through Africa progresses. The group's website includes a blog detailing his experiences, information and news from the group's partner organisations, and research about LGBTI rights around the continent.
The organisation accepts donations in any currency through PayPal and more than $2,000 has already been raised in just a few days. In the coming months, Out in Africa Ride will provide more information on the website about what the donations will be used to fund.
For security reasons, the website is currently password-protected and will remain so for approximately the first month as Freeman rides through Egypt and the Sudan. Until this protection is removed, it's possible to access the website with the password: pinkbike.
Check out the website here. Follow Freeman's route and his "bum soreness gauge," and donate what you can.