Actor Oros Mampofu admits fears about his gay TV kiss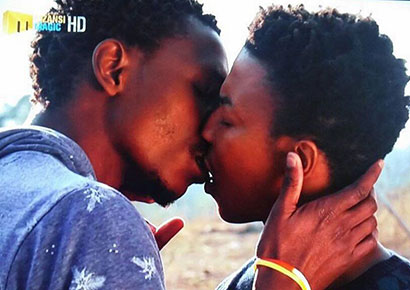 South African actor Oros Mampofu has revealed that he was afraid of how his first on-screen gay kiss would be received by others.
Mampofu, who plays the character of Phila on the Mzansi Magic series Igazi, exchanged the sizzling smooch with his on-screen boyfriend in last weekend's episode.
Speaking to Soweto Live, Mampofu said that shooting the scene was something of a challenge.
"Stepping towards that task, I didn't think I could do it. It was overwhelming with thoughts of how people will receive it…" he said.
The star added that the response, however, has ben largely positive: "…amazingly, I even got calls from people I went with to high school complementing my craft."
This was not the first gay kiss in a South African television production, with soaps having led the way in the past. At times, however, the public reaction has not been positive. In 2009, almost 20,000 people joined a Facebook group threatening to boycott Generations because of a male same-sex kiss.
Mampofu said that he felt an obligation to represent the character as authentically as possible in order "to portray the best image of the gay community".
The 24-year-old continued: "I realised that as actors, it's our obligation to evoke subjects that our peers and the elderly are reluctant to create dialogue on, it's our duty to express those concerns and issues so that we evolve."
When asked about his own sexuality, Mampofu responded that it was something he didn't want to discuss.
"I'd like to not have this open for discussion due to certain reasons but it's yet to be confirmed. Right now, I'm focused on my future. It was important for me to represent the character I had developed in the purest way I saw possibly without giving too much or too little. This is what I believe I did for Phila and South Africa," he said.
Mampofu is best known for his previous role as Jama on the SABC1 soap opera Skeem Saam. He's also starred in the show Kowethu and the movies Rise and The Lucky Specials.
Igazi is a drama series that tells the story of a Xhosa royal family in conflict over its throne. Mampofu's character, Prince Phila Mbangatha, is the family heir whose modern views are not always well received. The final episode of the first season screens on Sunday 3 July at 20:00 on Mzansi Magic.