Brakpan restaurant threatens legal action over anti-gay date night claims
An Ekurhuleni restaurant has threatened to sue the lesbian woman accusing it of discrimination over the venue's opposite-sex-only date nights.
Mia Agrela claimed on Facebook and in the media that the Lake Restaurant's "date night" events are exclusively for heterosexual couples and that this amounts to discrimination.
She discovered this when she she booked to attend the romantic evening with her partner. A follow up message from the restaurant clearly stated that "no same sex couples" are allowed.
Speaking to Mambaonline on Wednesday, Lake Restaurant owner Sammi-Jo Amiras insisted that her policy was not anti-gay as it refers to any same-sex couples, regardless of sexual orientation.
She said she doesn't care if a lesbian woman and a gay man come to the romantic evening together, as long as they are an opposite-sex couple. She also will not allow two heterosexual men or two heterosexual women to attend the event as couples. Therefore, she argued, this is not an example of discrimination.
"The event is designed for opposite-sex people, a man and a woman, to sit at a table," she said. Amiras compared the situation to turning away thirty-something people from a senior citizens event. "Am I then discriminating against them," she asked?
She also offered to host a separate date night event just for same-sex couples (adding that this was irrespective of whether the couples are gay or not).
"We have gay people coming here all the time. We have them in our families. We have nothing against them. She is ripping the whole story out of all proportion," she said of Agrela."
Amiras went on to confirm, however, that she will not allow same-sex couples to marry at her venue. "It is against my religion to marry a gay couple. So the spiritual service, I won't hold that here, but you are more than welcome to hire the venue for the reception. Get married up the road and come here," she said enthusiastically.
Agrela told Mambaonline that she had since received a call from a "Sheriff Cecil" threatening to send her a summons relating to her discrimination claims. Amiras denied that this was the case; although she is prepared to pursue the matter in the courts.
"It wasn't a summons. She received a letter just stating that we are not going to allow her to continue spreading the malicious rumours that she's doing and we are just waiting to hear from her," said Amiras.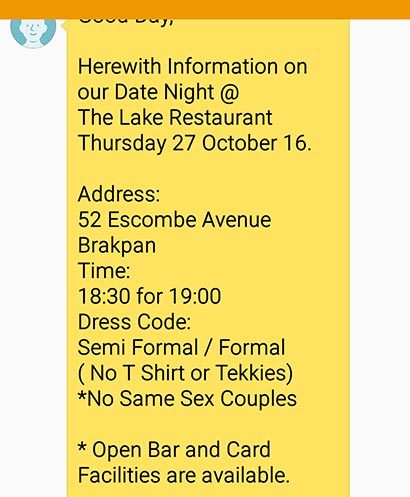 "At the end of the day I will not let anybody demean our establishment. And if it means that I need to take Mia to High Court to stop her from continuing that, then that's exactly what I will do. But the ball is in her court now, so we'll see where it goes from here."
Agrela, however, said she had not yet received any letter from the restaurant. She also remains defiant in her belief that this is a clear case of discrimination, which she said left her feeling "so hurt and disgusted".
"They want me to remove my post off my Facebook and on Zomato and I refuse, as it is my right and freedom of speech," she said.
"I have nothing to hide and I am not a person that will [usually] tackle something like this but I feel I had to and I feel I have to make a point with the owners. I cannot allow them to get away with this."
Agrela is still considering suggestions that she take the matter to the Equality Court or the SA Human Rights Commission as a violation of the Equality Act, which makes the denial of service on the basis of sexual orientation (amongst other factors) illegal.