"You start losing your mind" – Victims of Chechnya gay purge speak out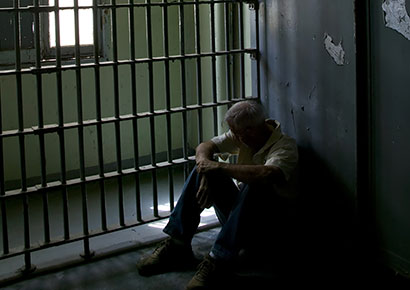 A new report details the horrific experiences of the victims of the recent deadly persecution of gay men in Chechnya.
Released on Friday, the Human Rights Watch report confirms that "police in Chechnya rounded up, beat, and humiliated dozens of gay or bisexual men in an apparent effort to purge them from Chechen society".
The 42-page document is based on first-hand interviews with victims of the campaign and makes for harrowing reading.
According to Human Rights Watch, starting the last week of February and continuing until at least the first week of April, the Chechen authorities rounded up men suspected of being gay. They were then detained in secret facilities, tortured, beaten, starved, electrocuted and in some cases killed.
One of the former detainees told Human Rights Watch: "It was like a chain. They get one person, go through his phone, torture him, make him name some others, get those others, and so it goes… In the place where I was held, we were four [gay men] at first, but several days later we were already 20… the torture was bad–the beatings, and the electric shocks especially–very few could bear it without breaking."
Another victim said: "They [security officials] put you face down on the floor and beat you with pipes. Then, they force other prisoners to carry on with the beating. Each man gets some 70-80 blows. And so it goes… And you literally turn black and blue from waist to toes."
A former detainee spoke about the painful electrocution the victims experienced: "They turn the knob, electric current hits you, and you start shaking. And they keep turning the hellish machine, and the pain is just insane, you scream, and scream, and you no longer know who you are… Finally, you faint, it all goes dark, but when you come to your senses, they start all over again. And once they're done with you and you get your bearings, you hear other inmates screaming, and the sounds of torture are just there all day, and at some point, you start losing your mind."
Another man told Human Rights Watch: "Beatings, electric shocks I could deal with–I didn't name any other gay people and didn't admit to anything, despite the daily torture session… But the humiliation was unbearable. The [police officials] spat in our faces, they called us disgusting, offensive names, they goaded us… When they finally released me, I was close to hanging myself. I cannot live with this, I just can't."
Police returned most of the men to their families, exposing their sexual orientation and indirectly encouraging their relatives to carry out "honour killings".
Said one victim: "They [officials] took us [the interviewee along with other inmates presumed to be gay] to this place and our male family members were there, fathers, brothers, uncles… So, they are there looking at you and they [officials] shout abuse at you, call you names, the most offensive names, and they order you to step forward, admit it to your relatives, admit that you're gay.
"And you know they're likely to kill you if you don't or they'll just keep torturing you… Then, they chastise your family members, tell them they brought shame on the family by rearing a pervert, that it's a huge stain on family honour, a stain that needs to be cleansed… They wouldn't say it directly but we all knew what it meant."
Despite fleeing, many are still in danger…
Many of the men released have fled Chechnya, but while they remain in Russia they face the double risk of being hunted down and harmed by Chechen security forces and by their own relatives.
As "Magomed," one of the purge victims, told Human Rights Watch: "My life is ruined. I cannot go back. And it's not safe here either. They have long arms and they can find me and the others anywhere in Russia, just give them time…"
As of late May, no new abductions have been reported, said Human Rights Watch, but several of the men targeted apparently remain in detention.
Human Rights Watch noted that the purge was in line with the brutal tactics used by Chechen leader Ramzan Kadyrov against other individuals and groups in the past.
"We have never seen Chechen officials rounding up gay men to be held and tortured [before]," said Rachel Denber, Deputy Director for Europe and Central Asia at Human Rights Watch. "But local security officials have been using the same violent, unlawful tactics for years with impunity to cleanse Chechnya of so-called 'undesirables'."
According to The Guardian, following massive international outrage and pressure, Russian officials are now "actively investigating" the incidents.
Earlier this month, President Vladimir Putin met with Russian Human Rights Ombudswoman Tatyana Moskalkova and agreed to an official investigation into the matter.
Elena Milashina, a reporter from Novaya Gazeta, the Russian newspaper that broke the story, told The Guardian that "Moskalkova was impressed by the strength of the evidence we have and has spoken to Putin about it".
The Guardian also reported that the investigator examining the allegations, Igor Sobol, was promoted in recent days, and said this was "possibly another signal that authorities are taking the case seriously".
"Men subjected to these gay purges have endured a gruesome ordeal in Chechnya," said Graeme Reid, Director of the LGBT rights program at Human Rights Watch. "The Kremlin has a duty to bring to justice those responsible for the violence and protect all people in Russia, regardless of their sexual orientation."