Namibia | Windhoek celebrates LGBT Pride after hate attacks (Pics)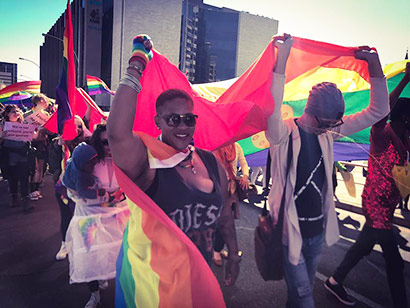 Following a series of hate crime attacks, members of Namibia's LGBT community took to the streets of the capital Windhoek for a Pride march on Saturday.
Organised by Out-Right Namibia, the procession through the city's main road, Independence Avenue, included around 200 participants, who were escorted by the police.
Some marchers helped carry a huge rainbow flag while others held up placards with messages such as "Gay rights are human rights," and "You don't need to be LGBT to support LGBT."
Dressed in colourful attire and accompanied by music from the lead float, the participants danced and chanted: "We are one, we are one!"
The parade was part of the We Are One advocacy week, which included workshops, discussions, fundraisers, health screenings, live performances, a "lip sync battle" and an afterparty. The week-long line-up of events concluded on Sunday with a "rainbow church service".
"We painted Windhoek on a dreary winter morning with colour and the paraders represented the diversity of LGBT communities across age, class, gender and racial lines in Namibia," said Out-Right Namibia Director Friedel Dausab. "The reception by the public was good. We had some good cheers and many curious onlookers. A minority were unhappy but no attacks or violent incidences were reported."
Originally planned to take place later in the year, the march and We Are One advocacy week was moved forward after a well-known transgender member of the LGBT community was attacked at a restaurant and fast food store in the space of a week.
"Her friends brought the case to the Out-Right Namibia office," said Dausab. "We decided to hold the advocacy week to highlight the fact that, as an LGBT community, we are part of the fabric of our communities and to celebrate our peaceful co-existence as productive citizens in our diverse communities."
Dausab told Mambaonline that the parade was "a call for the removal of unfair and unjust laws that target members of the LGBT community and for greater protections for LGBT in workplaces, families, schools and universities as well as recognition of our intimate relationships in accordance with constitutional provisions for equality and non-discrimination."
Consensual "sodomy" is illegal in Namibia and could be used to prosecute gay men, although this is not believed to have happened since the country's independence in 1990. Dausab said the organisation intends to challenge this law as unconstitutional in the future.
Dausab also noted that there had been a "regression in labour laws where explicit mention of sexual orientation as a ground for non-discrimination was removed," and that same-sex relationships in Namibia, including those legalised in other countries, are not recognised.
"Within society, LGBT people still face ongoing demonisation, pathologising and dehumanisation within traditional and religious sectors," he said. Dausab added that this is reflected in "the victimisation, scapegoating and violence that LGBT people experience in their homes, on their neighbourhood streets and when they try to access socially shared public services".
Contrary to some media reports, Saturday's Windhoek Pride march was not the country's first. That took place in Windhoek's township of Katutura in 2013. The city of Swakopmund also celebrated Pride in June last year.